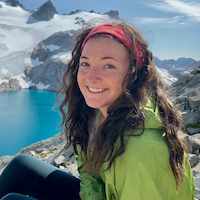 Ana Eyssimont
Marketing and Social Media Manager
Ana Eyssimont graduated from the University of Colorado in Boulder with a Bachelor's in Ecology and Evolutionary Biology and with honors in Environmental Studies. She wrote her honors thesis about her research studying environmental public policy laid out in three Colorado city's sustainability plans and its correlation over time with sustainable development initiatives and greenhouse gas emission inventories.
Her passion for outdoors recreation -skiing, rock climbing, and surfing- drives her interest in environmental conservation research and climate change policy, however she is truly passionate about communicating the scientific method and scholarly research to the general public. It is her belief that by making complex scientific research more accessible, by using tools such as social media, the complex evidence and data presented may influence social norms and cultural values towards an environmentally conscientious paradigm. At the IFR she creates transparent communication channels between the scientific community and the general public, while connecting students to top quality research opportunities.
Angela Susak Pitzer
Interim Enrollment Director
Angela Susak Pitzer earned her PhD in Egyptian archaeology from the Near Eastern Languages and Cultures Department at the University of California, Los Angeles. Her dissertation research was a multi-disciplinary study of Roman glass from Karanis, Egypt, which combined archaeological and chemical compositional data, ethnoarchaeology, and historical insights to assess how objects were valued in the ancient world. She has over ten years of experience working on numerous archaeological projects in Egypt and in North America. She also conducted ethnoarchaeological studies in Egypt and in the United Kingdom. With an undergraduate joint degree in psychology and anthropology, she has a deeply rooted interest in human behavior, both past and present. She strongly believes that anthropological and archaeological research can inform present conditions worldwide and that field research is an invaluable experience one may apply to a vast range of disciplines. As a new member of our team, Angela strives to help carry out IFR's mission to provide transformative programs and to promote equity and accessibility in field school education.