Overview
---
Students are encouraged to explore eligibility and apply to the China- Yangguanzhai Scholarship as funds may be used to support tuition payment for this field school.
---
The prehistoric village of Yangguanzhai (YGZ) dates to the Middle to Late Yangshao period (4,000-3,000 BCE), and it is one of the largest of its kind. The site is located in the Jing River Valley, approximately 25 kilometers north of the ancient city of Xi'an in northwest China. YGZ has a moat, a row of cave dwellings, subterranean houses, child urn-burials, and extensive pottery kilns. In the coming 2017 season, the project will plan to continue working in the northeast portion of the site. In order to gain a better understanding of the overall settlement system of the region, we will have lectures and discussions about Neolithic Shaanxi and China, and may also conduct survey work at the nearby Neolithic site of Huiduipo.
---
Course Details
Course Dates: June 24-July 28, 2018

Total Cost: $4,180

Course Type: Field Archaeology

Payment Deadline: April 20, 2018

Instructors: Dr. Richard Ehrich, Dr. Zhouyong Sun, Mr. Yang Liping

Online Orientation:  May 6, 2018, 10:00 AM PST
Instructors
The directors welcome emails and inquiries about the research elements of this project. More general information (tuition, health insurance, and payment schedule) can be found under the 'Students' tab above. Any further questions may be addressed to IFR staff. Additional details about research, course schedule, travel, accommodation, and safety can be found on the syllabus. Contacting the directors or the IFR office is encouraged and appreciated. It may help you determine if this field school is a good fit for you.
Testimonials
YGZ gave me the opportunity to see where archaeological data comes from, and to participate in the process of critical-thinking that leads to discovering our shared history. In addition to giving lectures, our instructors patiently taught us proper field techniques, from taking elevations every day to making technical drawings of features. The field school helped me understand that, beyond its excitement and adventure, archaeology really is a slow, methodical process of exploration. And it's fascinating! I loved how YGZ brought the Neolithic Era to life.
The program also taught me the importance of using a clear and consistent scientific method. We were told to always describe before we interpret. Although this rule may seem obvious, I don't think I fully understood the importance of this concept before YGZ, when a hasty interpretation could have serious consequences to future research.
As a student of the Chinese language, the field school also presented a great opportunity for cultural immersion and language practice. I loved working with a team of international students and professors–it really showed me how archaeologists collaborate across international borders.
YGZ has been indispensable to me when considering a career in archaeology and cultural heritage. It exposed me to the variety of disciplines within archaeology, especially geoarchaeology, ceramics, paleoethnobotany, and bioarchaeology. Now that I'm in my third year of undergraduate study, I'm seriously considering post-graduate options (such as graduate school or work in cultural resources management). My experiences in YGZ have helped a great deal in discerning what I may do in the future.
The Yangguanzhai field school was a fantastic learning opportunity for my academic and professional goals in archaeology as well as a personally enlightening experience. We got to work with archaeologists trained in Western excavation techniques, which will be immensely helpful in the pursuit of advanced degrees as well as jobs. At the same time we were allowed to work alongside Chinese archaeologists who are trained in uniquely Chinese techniques, allowing for a broadening of our ideas about the variety of ways that archaeology can be conducted and the variation across cultures and nations. These various techniques included everything from survey and excavation to lab methods, such as flotation and the cataloguing of pottery sherds.
The instructors at this field school were also hugely helpful. They were always open and willing to answer our many questions about archaeology, graduate school, and job opportunities. They organized many different trips to museums and lectures to make sure we understood, as much as possible in such a short period of time, the historical context and culture of China at large and the site at Yangguanzhai. This field school was one of the best experiences of my life. It affected me profoundly as a person and allowed me to gain a deeper understanding and appreciation for archaeology.

Tuition Includes:
Costs of instruction
Cost of Academic Credits
Room & board
All local transportation
Health Insurance
Student Fees
A nonrefundable deposit of $500 is required to secure a seat in this program.  This program requires an application (no application fee is requested). Only accepted students should pay the deposit fee. Deposit fee is part of the program Tuition. The remaining tuition, minus the $500 deposit, must be paid prior to the tuition deadline (see above under "Course Details").
Important Note: If you were accepted to this program but did not cancel your participation by the tuition payment deadline, you are legally responsible for the full tuition regardless of attendance in this program. Please read the IFR Cancellation Policy for further clarification.
A 2.5% Processing Fee is automatically assessed for all credit/debit card payments
A $100 Late Fee will be assessed if full tuition payment is not completed by the deadline.
Look at the field school syllabus above for room & board details.
Accommodations
During the first week of the field school, students will live in a student dormitory at Xibei University in the city of Xi'an. While in the field, students will reside at the Wufulinmen Hotel near the site.
Food is provided Monday to Saturday (breakfast, lunch, and dinner). Students are responsible for their own meals on Sundays. All meals will be communal events and will provide plenty of nutritious but basic food in the tradition of local cuisine. The daily diet in north China is heavily based on rice, noodles, and vegetables. Specialized diets (vegan, kosher, etc.) are difficult to maintain in this location. Vegetarians may find options fairly limited, and should be prepared to be flexible when eating the local food, or should bring supplemental food (e.g. protein bars) if they think it will be necessary.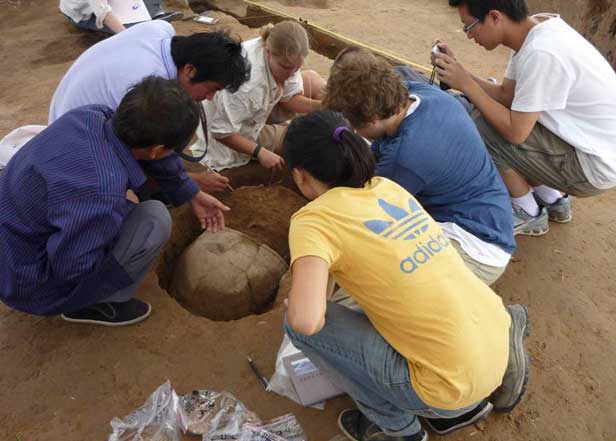 Travel Info
Students will be met at the Xi'an airport or train station, or may travel themselves directly to the Cuiyuan Hotel, located on the campus of Xibei University (city of X'ian) on June 24. Students may travel to X'ian by train or may fly into the Xi'an-Xianyang international airport (XIY). Please note that train tickets often sell out in summer and should be purchased well in advance through a website such as English.Ctrip.com or through a local travel agent. From Beijing to Xi'an, high speed trains leave every 1 to 2 hours throughout the day. If you are unable to purchase the ticket you desire, you can always take a slower train. There are also many domestic flights to Xi'an from other points of entry into China such as Hong Kong, Shanghai, and Beijing, and some international flights go directly to Xi'an.
The program coordinators will meet the students at the airport on June 24 one time between 11 AM and 2 PM; and at the North Train Station between 2:15 PM and 4 PM. Those who miss the meeting time can take the public transportation or a taxi to the Cuiyuan Hotel (the meeting time is subject to change once we know students' travel schedules). Please see syllabus for further details.
VISA APPLICATION
Non-Chinese participants are required to secure a tourist visa to China prior to arrival. You should apply for the visa several months ahead of time. You can download your visa application here: http://losangeles.chinaconsulate.org/eng/visa/forms/P020110615059220818410.pdf
All students should apply for a Tourist visa (L visa) for 60 days, unless you plan to stay in China longer.
Student Safety
Student safety is paramount for the IFR. Unlike many universities who are self-insured, the IFR purchases a range of high end insurance policies from some of the largest insurers in the world. Students in all our international programs have a comprehensive health insurance policy. It covers sickness, and chronic and mental health conditions at 100% of the cost. We have a strong evacuation and extraction policy. We can remove students from any location anywhere in the world with one phone call – whether medical evacuation, political or natural disaster extraction and anything in between. We purchase intelligence services from a global private provider and monitor the world 24/7. We automatically enroll our students to the US State Department STEP program. All of our students receive safety orientations both before and on the first day of each program. Our faculty have all been working in the areas where we operate field schools for years. They are intimately familiar with local customs and traditions, know the landscape well and have deep relationships with local communities.
All our domestic programs are coordinated with local authorities which are informed of our operations. Students in domestic programs are covered by their own health insurance and evacuations are managed by local emergency services, as appropriate.
The IFR has strong, explicit and robust policy towards discrimination and harassment in the field (click here for a shortcut). If students feel they cannot discuss personal safety issues with the field school staff, the IFR operates an emergency hotline where students can contact IFR personnel directly.
Travel does involve risk, but we try to minimize this risk as much as possible. Call us at 877-839-4374 or email us at info@ifrglobal.org if you have questions about the safety of particular programs.