All IFR field school applicants should familiarize themselves with IFR COVID-19 Practices before beginning the enrollment process. Program logistics are subject to change as health and risk management experts provide new recommendations and best practices. A Syllabus Addendum will be uploaded to each field school page and sent to all enrolled students with the latest operational and/or logistical changes to their program.
Overview
English settlers colonized Providence Island in 1630 under the direction of the Providence Island Company. The colonists constructed a town, New Westminster, and several forts. Before the Spanish destroyed the colony in 1641, Providence Island was home to English indentured servants, African slaves, Miskito Indians, Pequot Indians from Massachusetts, and English and Dutch pirates. Around 1836, it became clear that the Island would not have enough agricultural productivity to sustain the population. Thus, as an economic supplement, the London-based directors of the Providence Island Company approved the conduct of piracy against Spanish ships and mainland settlements. In the 1670s (after the Spanish left), Providence became a base for English pirates, including the infamous Henry Morgan. Shortly after Colombian independence (1810), Colombia and Nicaragua both attempted claims on the Island territory. The issue was settled by treaty in 1928, officially ceding Providence, and its neighbor Island, San Andrés, to Colombia.
The 2019 field season centers on the first-ever archaeological research on Providence Island with the goal of investigating the material, temporal, historical, and spatial aspects of the interactions on this small, yet highly multicultural, western Caribbean island. Archaeological endeavors will focus on gaining a better understanding of the early years of the colony (17thto 19thcenturies) and looking for behavioral continuity and/or discontinuity, over time. Household archaeology, capitalism and global systems, consumption and consumerism, landscape studies, history and memory, and community-driven anthropological archaeology inform the Project's subject areas, theoretical foundations, and methods/methodologies of sampling and data collection.
Course Details
Course Dates: May 17-June 15, 2021

Course Type: Historical Archaeology

Payment Deadline: April 30, 2021

Instructors: Dr. Tracie Mayfield

Academic Credit: 8 Semester Credit Units (equivalent to 12 Quarter Units)
Instructors
The directors welcome emails and inquiries about the research elements of this project. More general information (tuition, health insurance, and payment schedule) can be found under the 'Students' tab above. Any further questions may be addressed to IFR staff. Additional details about research, course schedule, travel, accommodation, and safety can be found on the syllabus. Contacting the directors or the IFR office is encouraged and appreciated. It may help you determine if this field school is a good fit for you.
Field School testimonials coming soon!
Tuition Includes:
Costs of instruction
Room & partial board
All local transportation
Health Insurance
Student Fees
This program requires an online application — there is a $25 fee to submit an application. Once admitted, a payment of the nonrefundable deposit fee is required to secure a place in the program(s). The Tuition balance (total program cost minus the deposit fee) must be paid prior to the Tuition deadline as listed above under "Course Details." A $200 late fee will be added to all accounts not paid in full by the Tuition deadline.
Deposit: A nonrefundable $500 deposit fee is required to secure a seat in the program. This deposit is part of the total Tuition and NOT in addition to it.
Late Enrollment (payment deadline forward): A nonrefundable $600 deposit fee is required to secure a seat in the program. In addition, a $200 late fee will be added to all accounts not paid in full by the Tuition payment deadline.
Withdrawal & Cancellation Policy: If you paid the deposit fee but did not cancel your participation by the Tuition payment deadline, you are legally responsible for the full Tuition regardless of attendance at any IFR program. Please carefully read our Withdrawal & Cancellation Policy for further information.
Credit Card Processing Fee: A 3.5% processing fee is automatically incurred for all credit/debit card/online payments.
Academic Credit Opt Out: Students who wish to participate in an IFR field school without earning academic credit units may do so and receive the following discounts: $300 off a full program (4 or more weeks in length) or $200 off a short program (2-3 weeks in length).
Trip Cancellation Insurance: Please consider purchasing a travel interruption insurance policy that will cover your travel cost and the cost of the IFR program once you make a commitment to attend a field school.
The added risk of COVID-19  should be a "covered event" in your policy.
Please note that the cost of coverage varies, based on your age, the program duration and geographical location.
You may get help and advice from your insurance broker and we offer the links below to help you educate yourself on these insurance products.
Accommodations
Students and faculty will be housed in Posada Enilda Bed and Breakfast located in the south of the Island in an area called Bottom House. This posada is a fully modern facility with air conditioning, dining room, and other amenities, such as air-conditioning, in-room safes, and personal refrigerators, and is extremely comfortable. The husband and wife owners are excited about hosting the students. Security cameras monitor the grounds and the main gate is locked at night. Providence is a safe island, with little serious crime.
The owners of Posada Enilda will provide breakfast, every day, and lunch, Monday through Saturday, which will be served in the field or in the dining area at Posada Enilda. Dinners (and lunches on Sundays) will not be prepared and provided by the Project, but Posada Enilda serves large, economical dinners and restaurants and grocery stores are available on the Island where students can purchase meals. Food borne illness will be minimized by drinking only bottled water. The owners of the Posada can meet most dietary needs (vegetarians, vegans, and lactose intolerant), other than Kosher.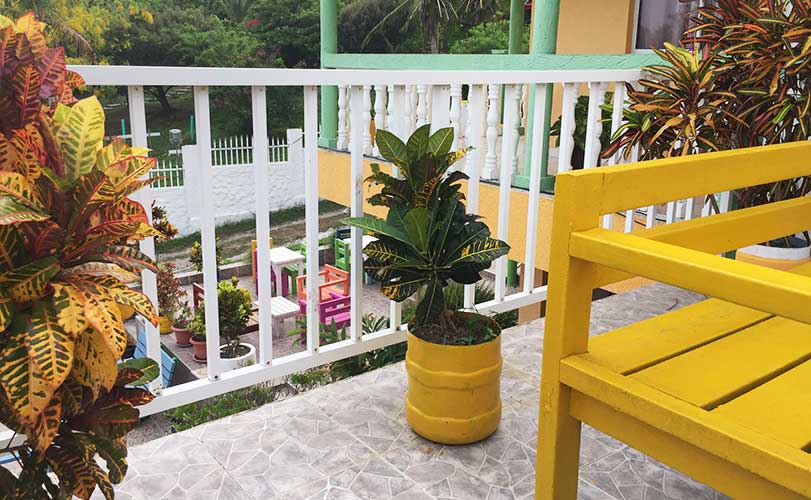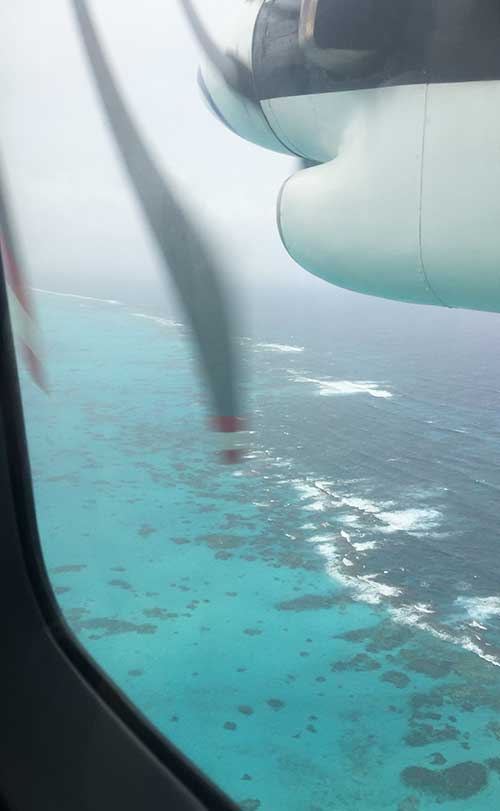 Travel Info
Please hold purchasing your airline ticket until six (6) weeks prior to departure date. Natural disasters, political changes, weather conditions and a range of other factors may require the cancelation of a field school. The IFR typically takes a close look at local conditions 6-7 weeks prior to program beginning and make Go/No Go decisions by then. Such a time frame still allows purchase of discounted airline tickets while protecting students from potential loss of airline ticket costs if we decide to cancel a program.
Traveling to Providence Island requires careful planning. Students can fly through Bogotá or Panama City. We recommend Panama City because the flights are generally less expensive than going to Bogotá. The Panama City Airport is a modern, well-appointed facility and the hub for Copa Airlines. From either Bogotá or Panama City students will need to fly to San Andrés Island (Gustavo Rojas Pinilla International Airport – ADZ) in Colombia. Getting to this point is very straightforward and can be booked through any of the major travel websites.
Students can then either fly to El Embujo Airport (PVA) or take a boat from San Andrés Island to Providence Island, which is best booked with the assistance of Enilda Chamorro, owner of Posada Enilda (www.hotelposadaenilda.com) because the local travel websites often do not work. Ms. Chamorro can be reached via phone (+57-3208552912) or email (posadaenilda@yahoo.com). You will need to contact Ms. Chamorro and relay your travel needs and supply credit or debit card information to her. She will then book your travel and send you the conformation paperwork via email.
SATENA (www.satena.com) and Decameron (www.decameron.com) airlines both fly twice daily and the flight takes 20 minutes, and a catamaran service by Conocemos Navegando (https://en.conocemosnavegando.com/home) sails early in the morning from San Andrés five times a week: Mon, Wed, Thurs, Fri and Sun. The catamaran departs San Andrés at 8:00am and travel time is 3.5 hours; return trips to San Andrés depart at 2:30pm. If students need to spend the night in San Andrés, which is a modern tourist resort, we recommend the Hotel Casablanca (www.hotelcasablancasanandres.com), which is located on the beach.
Project staff will meet students either at the Providence Island airport or catamaran seaport.
All persons entering Colombia are assessed a fee of USD $40 or its equivalent in Colombian Pesos (COP) in addition to the airfare or boat fare. The point of paying this fee may vary based on the students' entry into the country. Students are not assessed this fee when leaving Providence Island.
If you missed your connection or your flight is delayed, please call, text or email project director immediately. A local emergency cell phone number will be provided to all enrolled students.
Student Safety
The IFR primary concern is with education. Traveling and conducting field research involve risk. Students interested in participating in IFR programs must weigh whether the potential risk is worth the value of education provided. While risk in inherent in everything we do, we do not take risk lightly. The IFR engages in intensive review of each field school location prior to approval. Once a program is accepted, the IFR reviews each program annually to make sure it complies with all our standards and policies, including student safety.
Students attending IFR international programs are covered by a comprehensive Health Insurance policy that includes physical illness or injury, mental or chronic conditions. No deductible and 100% of costs are covered up to $250,000. In addition, we provide Political and Natural Disaster Evacuation policy, which allow us to remove students from field school location if local conditions change. Our field school directors are scholars that know field school locations and cultures well and are plugged in into local communities and state institution structures.
Students attending IFR domestic programs (within the US) must have their own health insurance but must report those during enrollment. IFR field school directors are familiar with local authorities and if in need of evacuation, local emergency services and/or law enforcement will be notified and activated.
The IFR has a strong, explicit and robust policy towards discrimination and harassment in the field. If students feel they cannot discuss personal safety issues with field school staff, the IFR operates an emergency hotline where students may contact IFR personnel directly.
Call us at 877-839-4374 or email us at info@ifrglobal.orgif you have questions about the safety of any particular program.