This program is a short introduction to field archaeology. It is designed to present students with the basic fundamentals of field work and a taste for the rigors of field research. Students interested in the full session field schools should consider applying to any of our standard 4-5 week-long programs.  
Overview
Tell Yunatsite is located in Southern Bulgaria and is among the biggest tells in Europe, similar to those found in the Near East. With a diameter of approximately 110 m/360 ft and height of 12 m/39 ft above ground surface, approximately one third of the tell has been excavated to date. Tell Yunatsite is a model site with a long-term and well-defined stratigraphic sequence. There is a medieval cemetery at the top of the tell, followed by a Roman period level, two Iron Age levels, another dated to the Early Bronze Age, and finally, a Chalcolithic (Copper age) layer. Despite work at the site since 1939, sterile soils have not yet been reached. Excavations of the Copper Age layers proved that Tell Yunatsite is the acropolis of one of the earliest proto-urban sites established in Europe dated to the 5th millennium BCE. The site includes evidence of the apogee and collapse of the earliest prehistoric civilization as well as some of the earliest metallurgy found in Europe. A small gold bead found at the site by an IFR field school student in 2016 and another gold plastine found in 2017 are believed to be the oldest bits of processed gold ever discovered in Europe – and among the oldest in the world.
In 2020, field school students will take part in further excavation of the burned Chalcolithic/Final Neolithic layer buildings. Faculty and students will work together and explore why and how did one of the earliest proto urban centers in Europe emerge in the beginning of the fifth millennium BCE, and what are the reasons that caused its collapse 800 years later.
Course Details
Course Type: Field Archaeology, Prehistoric, Neolithic

Instructors: Dr. Kamen Boyadzhiev & Dr. Yavor Boyadzhiev

Academic Credit: 2 Semester Credit Units (equivalent to 3 Quarter Units)
Instructors
The directors welcome emails and inquiries about the research elements of this project. More general information (tuition, health insurance, and payment schedule) can be found under the 'Students' tab above. Any further questions may be addressed to IFR staff. Additional details about research, course schedule, travel, accommodation, and safety can be found on the syllabus. Contacting the directors or the IFR office is encouraged and appreciated. It may help you determine if this field school is a good fit for you.
Testimonials coming soon!
Tuition Includes:
Cost of Instruction
Cost of Academic Credits
Room & Board
All Onsite Transportation
Health & Evacuation Insurance
Student Fees
This program requires an online application — there is no fee to submit an application. Once admitted, a payment of the nonrefundable deposit fee is required to secure a place in the program(s). The Tuition balance (total program cost minus the deposit fee) must be paid prior to the Tuition deadline as listed above under "Course Details." A $200 late fee will be added to all accounts not paid in full by the Tuition deadline.
Early Decision Enrollment (Nov 1, 2019 through Jan 10, 2020): A reduced, nonrefundable $300 deposit fee is required to secure a seat in the program. This deposit is part of the total Tuition and NOT in addition to it.
Regular Enrollment (Jan 11, 2020 through payment deadline): A nonrefundable $500 deposit fee is required to secure a seat in the program. This deposit is part of the total Tuition and NOT in addition to it.
Late Enrollment (payment deadline forward): A nonrefundable $600 deposit fee is required to secure a seat in the program. In addition, a $200 late fee  will be added to all accounts not paid in full by the Tuition payment deadline.
Withdrawal & Cancellation Policy: If you paid the deposit fee but did not cancel your participation by the Tuition payment deadline, you are legally responsible for the full Tuition regardless of attendance at any IFR program. Please carefully read our Withdrawal & Cancellation Policy for further information.
Credit Card Processing Fee: A 2.5% processing fee is automatically incurred for all credit/debit card/online payments.
Academic Credit Opt Out: Students who wish to participate in an IFR field school without earning academic credit units may do so and receive the following discounts: $300 off a full program (4 or more weeks in length) or $200 off a short program (2-3 weeks in length).
Trip Cancellation Insurance: The IFR does not provide trip cancellation insurance. Read this Wall Street Journal article about travel insurance — it may help in making a decision whether such insurance is for you. If you do wish to purchase such insurance, Insure My Trip or Travel Guard are two possible resources you may wish to explore.
Accommodations
In Primavera Hotel in the district town of Pazardzhik, Bulgaria – in comfortable rooms with 2-3 beds per room, bathrooms with shower and WC, TV, air-conditioning and free Wi-Fi. Cheap laundry service available at the archaeological site. Participants are not expected to bring any additional equipment, sleeping bags or towels. The hotel is located next to the main pedestrian area of the Downtown Pazardzhik. There are lots of shops, pharmacies, banks, ATMs, a hospital, taverns, bars, cafes, post office and tourist attractions around in the hotel area. Pazardzhik is a mid-size Bulgarian town (50 000 inhabitants). The town and its surroundings offer a variety of opportunities for good entertainment, sightseeing, sports, wine-tasting and shopping.
The excavation site, Tell Yunatsite is situated about 10 km away (15 min ride) from Pazardzhik and the hotel. Transport on work days will be arranged and covered by the Balkan Heritage Foundation (BHF). Next to the site is the archaeological base with running water, electricity, a field latrine, dining and lab facilities as well as a tool storage available to the students.
Meals: Three meals (Balkan cuisine) per day are covered by tuition fee. This field school can accommodate vegetarians, vegans and individuals with gluten- and lactose-intolerance. Kosher-restrictions are impossible to accommodate in this location.
Breakfast, lunch and dinner meals will take place at the site during the work days. Other meals will take place at the hotel's restaurant. Brown-bag-lunches will be provided during excursions and days-off.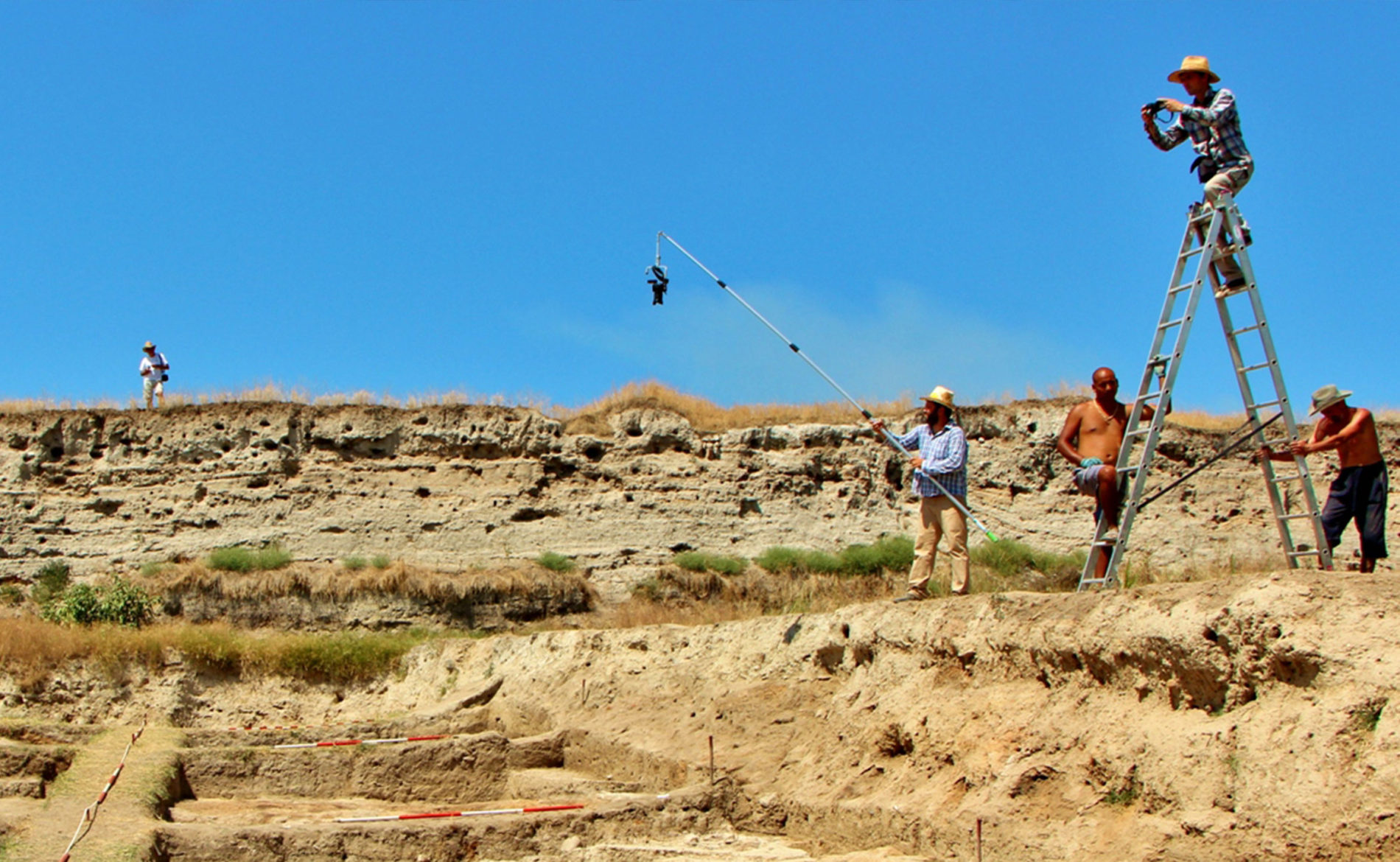 Travel Info
Please hold purchasing your airline ticket until six (6) weeks prior to departure date. Natural disasters, political changes, weather conditions and a range of other factors may require the cancellation of a field school. The IFR typically takes a close look at local conditions 6-7 weeks prior to program beginning and makes Go/No Go decisions by then. Such a time frame still allows the purchase of deeply discounted airline tickets while protecting students from potential loss of airline ticket costs if we decide to cancel a program.
Students should arrive on July 11 to the Hotel Primavera 2 (in Pazardzhik) by 7:00pm. Students may organize their trip individually or request a transfer for an additional fee. Enrolled students will receive a travel info-sheet with specific travel details prior to departure. 
If you missed your connection or your flight was delayed/canceled, call, text or email the project staff (email: bhfs.admissions@gmail.com). Local contact information will be provided to enrolled students. 
VISA REQUIREMENTS 
Citizens of the US, Canada, Japan, Republic of Korea, Australia and New Zealand do not need a visa to visit Bulgaria for up to 90 days. Citizens of all other countries may need a visa. The Balkan Heritage Foundation can send an official invitation letter that should be used at the relevant embassy to secure a visa to the program. 
For more information visit the Balkan Heritage Foundation web site at www.bhfieldschool.org/information/visa-help and the links provided there. 
Student Safety
The IFR primary concern is with education. Traveling and conducting field research involve risk. Students interested in participating in IFR programs must weigh whether the potential risk is worth the value of education provided. While risk is inherent in everything we do, we do not take risk lightly. The IFR engages in intensive review of each field school location prior to approval. Once a program is accepted, the IFR reviews each program annually to make sure it complies with all our standards and policies, including student safety.
Students attending IFR international programs are covered by a comprehensive Health Insurance policy that includes physical illness or injury, mental or chronic conditions. No deductible and 100% of costs are covered up to $250,000. In addition, we provide Political and Natural Disaster Evacuation policy, which allow us to remove students from field school location if local conditions change. Our field school directors are scholars that know their field school locations and cultures well and are connected to the local communities and state institution structures.
Students attending IFR domestic programs (within the US) must have their own health insurance and must present proof of insurance upon enrollment. IFR field school directors are familiar with local authorities and if in need of evacuation, local emergency services and/or law enforcement will be notified and activated.
The IFR has strong, explicit and robust policy towards discrimination and harassment in the field. If students feel they cannot discuss personal safety issues with field school staff, the IFR operates an emergency hotline where students may contact IFR personnel directly.
Call (877-839-4374) or email (info@ifrglobal.org) if you have questions about the safety of any particular program.