Overview
Cova Gran de Santa Linya (Lleida, Catalunya) is a rock shelter located at the seam between the first range of the southern Pyrenees and the Ebro Basin. The cave is rich with evidence of human occupation dating to at least as early as 50,000 years ago and continuing through the Late Prehistory. Investigation at the site will allow us to recognize both the evolution of hunting and gathering strategies in the region and recognize important differences between Neanderthals and Modern human adaptive strategies. The deep archaeological sequence at Cova Gran contains animal bones, hearths, and Middle and Upper Paleolithic artifacts. The presence of Early Upper Paleolithic layers in stratigraphic context enable careful examination of two competing models that explains Middle/Upper Paleolithic "transition": the first suggest continuity and the second suggest population replacement. This program will combine lectures, field survey, excavation and laboratory training. The long human occupation sequence at Cova Gran will provide students with the rare opportunity to explore and document an extensive cultural sequence of the region, beginning ca. 50,000 years ago.
Course Details
Enrollment Status: CIRCLE

Course Type: Field Archaeology

Instructors: Dr. Jorge Martinez-Moreno, Prof. Rafael Mora, & Dr. Alfonso Benito-Calvo

Academic Credit: 8 Semester Credit Units (equivalent to 12 Quarter Units)
Instructors
The directors welcome emails and inquiries about the research elements of this project. More general information (tuition, health insurance, and payment schedule) can be found under the 'Students' tab above. Any further questions may be addressed to IFR staff. Additional details about research, course schedule, travel, accommodation, and safety can be found on the syllabus. Contacting the directors or the IFR office is encouraged and appreciated. It may help you determine if this field school is a good fit for you.
The Cova Gran field school was an amazing experience for me. I learned a great deal about excavation and artifact analysis, to an extent that is impossible to achieve in a classroom. Overall, the atmosphere of the program and the people involved were very welcoming, which definitely contributed to the teams' daily morale and fostered a desire to work hard and pursue knowledge throughout the programs duration. It was great to be a part of such a proficient project, where teamwork plays a vital role and methodology is held at a high standard.
My experience at the Cova Gran Archaeological Project was extremely rewarding academically and personally. I am so thankful to have worked with such a patient, attentive team. The program was very comprehensive with lessons about prehistory, lab analysis, experimental archaeology, theories associated with the site, excavation techniques, and so much more. I would recommend this experience for students interested in archaeology or anyone seeking an adventure! I hope this will help encourage people to participate in this enriching program.
Tuition Includes:
Cost of Instruction
Cost of Academic Credit Units
Room & Board
All local transportation
Health & Evacuation Insurance
Student Fees
This program requires an online application — there is no fee to submit an application. Once admitted, a payment of the nonrefundable deposit fee is required to secure a place in the program(s). The Tuition balance (total program cost minus the deposit fee) must be paid prior to the Tuition deadline as listed above under "Course Details." A $200 late fee will be added to all accounts not paid in full by the Tuition deadline.
Early Decision Enrollment (Nov 1, 2019 through Jan 10, 2020): A reduced, nonrefundable $300 deposit fee is required to secure a seat in the program. This deposit is part of the total Tuition and NOT in addition to it.
Regular Enrollment (Jan 11, 2020 through payment deadline): A nonrefundable $500 deposit fee is required to secure a seat in the program. This deposit is part of the total Tuition and NOT in addition to it.
Late Enrollment (payment deadline forward): A nonrefundable $600 deposit fee is required to secure a seat in the program. In addition, a $200 late fee  will be added to all accounts not paid in full by the Tuition payment deadline.
Withdrawal & Cancellation Policy: If you paid the deposit fee but did not cancel your participation by the Tuition payment deadline, you are legally responsible for the full Tuition regardless of attendance at any IFR program. Please carefully read our Withdrawal & Cancellation Policy for further information.
Credit Card Processing Fee: A 2.5% processing fee is automatically incurred for all credit/debit card/online payments.
Academic Credit Opt Out: Students who wish to participate in an IFR field school without earning academic credit units may do so and receive the following discounts: $300 off a full program (4 or more weeks in length) or $200 off a short program (2-3 weeks in length).
Trip Cancellation Insurance: The IFR does not provide trip cancellation insurance. Read this Wall Street Journal article about travel insurance — it may help in making a decision whether such insurance is for you. If you do wish to purchase such insurance, Insure My Trip or Travel Guard are two possible resources you may wish to explore.
Accommodations
Students will stay at the Alberg la Cova hostel at Sant Llorenc de Montgai. This village is approximately 30 km north of Lleida (Catalunya, Spain). The building has excellent facilities with communal space, laundry and wifi.
Students will share communal bedrooms (6-8 people in each room). Alberg la Cova will provide sheets, which will be changed regularly. All team members must participate in setting tables for meals and do the washing up and clean common shared spaces after lunch and dinner (living room, bedroom).
Breakfast, lunch and dinner are provided by the program. On free days, students may choose to take their meals at local restaurants in the area.
While the project may accommodate some dietary needs, you must communicate with project directors to ensure your needs can be met in the field. Celiac and vegetarian diets can be accommodated but other types of diet may be more challenging to manage.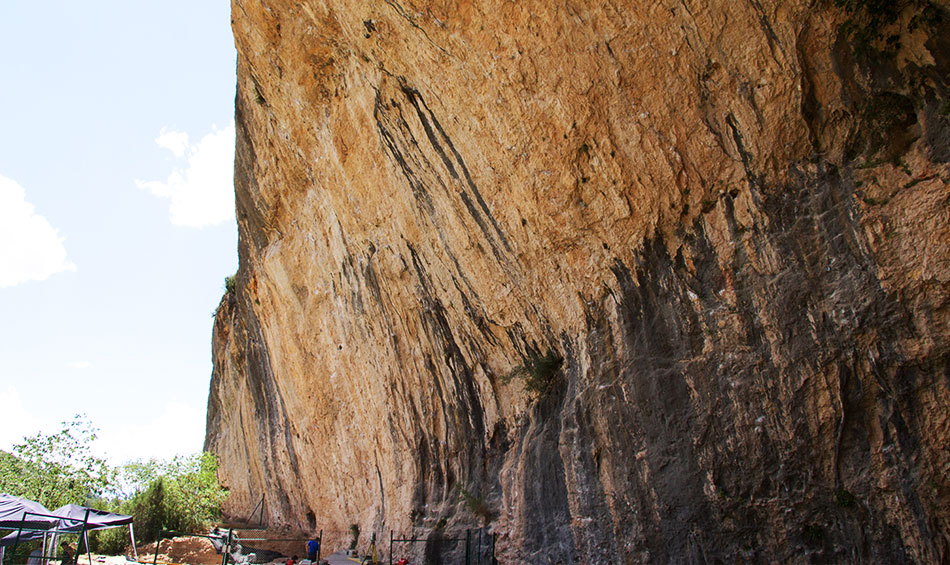 Travel Info
We suggest you hold purchasing your airline ticket until six (6) weeks prior to departure date. Natural disasters, political changes, weather conditions and a range of other factors may require the cancellation of a field school. The IFR typically takes a close look at local conditions 6-7 weeks prior to program beginning and make Go/No Go decisions by then. Such time frame still allows the purchase deeply discounted airline tickets while protecting students from potential loss if airline ticket costs if we decide to cancel a program.
Students will meet at the Bar-Cafeteria at Lleida-Pyrenees RENFE railway on Sunday June 28th 2020 at 7:00pm (19 h). Trains to Lleida-Pyrenees depart from Sants RENFE train station in Barcelona frequently. Trains from the Barcelona airport to Sants station depart every 30 minutes. Trains schedule from Sants station to Lleida Pirineus can be found at http://www.renfe.com/EN/viajeros/index.html.
This program will conclude afternoon of Friday, July 24. Students should plan onward travel or flights back home for anytime on Saturday, July 25.
If you missed your connection or your flight is delayed, please call, text or email project director immediately. A local emergency cell phone number will be provided to all enrolled students.
 VISA REQUIREMENTS
Spain is part of the Schengen Agreement. US citizens may enter Spain for up to 90 days for tourist or business purposes without a visa. Stiff fines may be imposed for overstaying the 90-day period. Your passport should be valid for at least three months beyond the period of your stay.
Citizens of other countries are asked to check the embassy website page at their home country for specific visa requirements.
Student Safety
The IFR primary concern is with education. Traveling and conducting field research involve risk. Students interested in participating in IFR programs must weigh whether the potential risk is worth the value of education provided. While risk is inherent in everything we do, we do not take risk lightly. The IFR engages in intensive review of each field school location prior to approval. Once a program is accepted, the IFR reviews each program annually to make sure it complies with all our standards and policies, including student safety.
Students attending IFR international programs are covered by a comprehensive Health Insurance policy that includes physical illness or injury, mental or chronic conditions. No deductible and 100% of costs are covered up to $250,000. In addition, we provide Political and Natural Disaster Evacuation policy, which allow us to remove students from field school location if local conditions change. Our field school directors are scholars that know field school locations and cultures well and are plugged in into local communities and state institution structures.
Students attending IFR domestic programs (within the US) must have their own health insurance and provide proof upon enrollment. IFR field school directors are familiar with local authorities and if in need of evacuation, local emergency services and/or law enforcement will be notified and activated.
The IFR has strong, explicit and robust policy towards discrimination and harassment in the field. If students feel they cannot discuss personal safety issues with field school staff, the IFR operates an emergency hotline where students may contact IFR personnel directly.
Call (877-839-4374) or email (info@ifrglobal.org) if you have questions about the safety of any particular program.