Overview
The city of Xalapa in the State of Veracruz, Mexico is a dynamic center for folk, jazz, and classical music communities. This diverse urban 'soundscape' was shaped by waves of in-migrations of son huasteco and son jarocho practitioners, the institutionalization of the Symphonic Orchestra of Xalapa (OSX), and the establishment of the jazz department at the Veracruz University (JazzUV). The ethnographic field school 'Sound and the City' tackles migration, Indigeneity, ethnic diversity, and social inequality by exploring the politics of participation and activism in these communities. By mapping sounds in the urban environment and conducting ethnographic research, this program will examine how sonic communities are formed and the types of social dynamics which are generated within. The unique characteristics of the music scene in downtown Xalapa and its geographical location on the Sierra Madre Oriental, make this an exceptional place for students to experience first-hand ethnographic research methods, multidisciplinary scholarship, and actively participate in music performances of son huasteco and son jarocho, classical music, and jazz. The collected data will be used to develop a website that will include direct input from students in its design and content.
Course Details
Enrollment Status: CLOSED

Course Type: Ethnomusicology

Instructors: Dr. Veronica Pacheco, Dr. Randall Kohl

Academic Credit: 8 Semester Credit Units (equivalent to 12 Quarter Units)
Instructors
The directors welcome emails and inquiries about the research elements of this project. More general information (tuition, health insurance, and payment schedule) can be found under the 'Students' tab above. Any further questions may be addressed to IFR staff. Additional details about research, course schedule, travel, accommodation, and safety can be found on the syllabus. Contacting the directors or the IFR office is encouraged and appreciated. It may help you determine if this field school is a good fit for you.
Tuition Includes:
Cost of Instruction
Cost of Academic Credit Units
All local transportation
Health & Evacuation Insurance
Room & Board
Student Fees
This program requires an online application — there is no fee to submit an application. Once admitted, a payment of the nonrefundable deposit fee is required to secure a place in the program(s). The Tuition balance (total program cost minus the deposit fee) must be paid prior to the Tuition deadline as listed above under "Course Details." A $200 late fee will be added to all accounts not paid in full by the Tuition deadline.
Early Decision Enrollment (Nov 1, 2019 through Jan 10, 2020): A reduced, nonrefundable $300 deposit fee is required to secure a seat in the program. This deposit is part of the total Tuition and NOT in addition to it.
Regular Enrollment (Jan 11, 2020 through payment deadline): A nonrefundable $500 deposit fee is required to secure a seat in the program. This deposit is part of the total Tuition and NOT in addition to it.
Late Enrollment (payment deadline forward): A nonrefundable $600 deposit fee is required to secure a seat in the program. In addition, a $200 late fee  will be added to all accounts not paid in full by the Tuition payment deadline.
Withdrawal & Cancellation Policy: If you paid the deposit fee but did not cancel your participation by the Tuition payment deadline, you are legally responsible for the full Tuition regardless of attendance at any IFR program. Please carefully read our Withdrawal & Cancellation Policy for further information.
Credit Card Processing Fee: A 2.5% processing fee is automatically incurred for all credit/debit card/online payments.
Academic Credit Opt Out: Students who wish to participate in an IFR field school without earning academic credit units may do so and receive the following discounts: $300 off a full program (4 or more weeks in length) or $200 off a short program (2-3 weeks in length).
Trip Cancellation Insurance: The IFR does not provide trip cancellation insurance. Read this Wall Street Journal article about travel insurance — it may help in making a decision whether such insurance is for you. If you do wish to purchase such insurance, Insure My Trip or Travel Guard are two possible resources you may wish to explore.
Accommodations
Students will stay in the central hotel or rented house in Xalapa. In the scheduled field trips to Indigenous communities to the north and south of the city, students will stay in local inns. All students will share a room based on room size and availability. 
Food in Veracruz is a combination of Indigenous and European, and highland and coastal cuisines. Breakfast, lunch, and dinner are provided by the program 6 days a week, and students are responsible for their meals on free days each weekend. Breakfasts and dinners are usually taken in local restaurants, and light lunches in the field mostly consist of sandwiches, vegetables, and fruit. Even though students will have the opportunity of taste a variety of foods, keep in mind that vegetarianism and veganism are not common in Mexico in general, and food choices for these diets will be limited. Other specialized diets (halal, kosher, gluten-free, etc.) are difficult to maintain.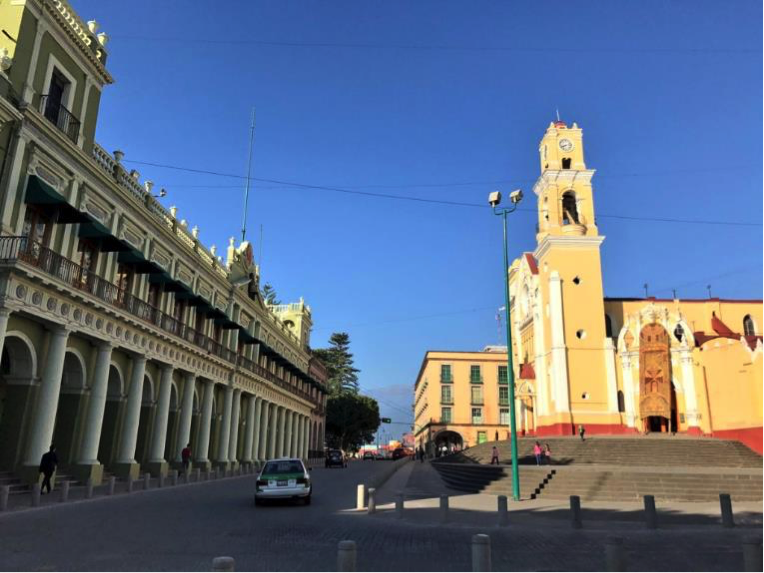 Travel Info
Please hold purchasing your airline ticket until six (6) weeks prior to departure date. Natural disasters, political changes, weather conditions and a range of other factors may require the cancellation of a field school. The IFR typically takes a close look at local conditions 6-7 weeks prior to program beginning and makes Go/No Go decisions by then. Such a time frame still allows the purchase of deeply discounted airline tickets while protecting students from potential loss of airline ticket costs if we decide to cancel a program.
Students are responsible for making their own travel arrangements to the Veracruz International Airport (VER). Please plan to arrive on Sunday, June 21st, between 8 am and 6 pm. All students will meet with the project personnel at the airport and will leave together to Xalapa in a rental van. Orientation and classes will begin on Monday June 22nd, at 9 am sharp. 
If you missed your connection or your flight is delayed, please call, text, or email the project director immediately. A local emergency cell phone number will be provided to all enrolled students.
VISA REQUIREMENTS 
US citizens do not require a visa to enter Mexico for less than 180 days, but must have their passport valid for at least six months and have at least one blank page for the entry stamp. Travelers with passports that are found to be washed or damaged may be refused entry to Mexico. 
Citizens of other countries are asked to check the Mexican Embassy website page in their home country for specific visa requirement 
Student Safety
The IFR primary concern is with education. Traveling and conducting field research involve risk. Students interested in participating in IFR programs must weigh whether the potential risk is worth the value of education provided. While risk is inherent in everything we do, we do not take risk lightly. The IFR engages in intensive review of each field school location prior to approval. Once a program is accepted, the IFR reviews each program annually to make sure it complies with all our standards and policies, including student safety.
Students attending IFR international programs are covered by a comprehensive Health Insurance policy that includes physical illness or injury, mental or chronic conditions. No deductible and 100% of costs are covered up to $250,000. In addition, we provide Political and Natural Disaster Evacuation policy, which allow us to remove students from field school location if local conditions change. Our field school directors are scholars that know their field school locations and cultures well and are connected to the local communities and state institution structures.
Students attending IFR domestic programs (within the US) must have their own health insurance and must present proof of insurance upon enrollment. IFR field school directors are familiar with local authorities and if in need of evacuation, local emergency services and/or law enforcement will be notified and activated.
The IFR has strong, explicit and robust policy towards discrimination and harassment in the field. If students feel they cannot discuss personal safety issues with field school staff, the IFR operates an emergency hotline where students may contact IFR personnel directly.
Call us at 877-839-4374 or email us at info@ifrglobal.org if you have questions about the safety of any particular program.