Overview
The main goal for this program to provide theoretical and hands-on training experience on pottery and glass conservation. It does so through the exposure of students to the conservation techniques and specifics of two different materials, enabling them to evaluate and appreciate similarities and differences in conservation problems, approaches, methods, technique, design and material choice applied on different types of artifacts. 
The pottery and the glass vessels for the workshop in Republic of N. Macedonia come from the excavations of the Roman and Early Byzantine city of Stobi and are provided by the National Institution Stobi (NI Stobi). These are mainly locally produced Roman and Late Roman ceramic shapes. 
Students begin their training with replicas of ancient vessels and then progress to originals once they reach an acceptable level of skill, accuracy and precision. Most students will be able to master conservation and restoration efforts within the course of this field school and expect to complete work on 2-5 artifacts by the end of the program, depending on the initial state of objects' conservation, the necessity of conservation treatment and the individual performance of the student. 
Upon successful completion of the course, they will be prepared to take part in projects for conservation, restoration and documentation of archaeological pottery, under the supervision of professional conservators and restorers. 
Course Details
Enrollment Status: CLOSED

Course Type: Objects Conservation & Restoration, Classical Studies

Instructors: Bilyana Jankulovska, Dr. Angela Pencheva, Mr. Alexander Manev & Dr. Eva Todorova

Academic Credit: 4 Semester Credit Units (equivalent to 6 Quarter Units)
Instructors
The directors welcome emails and inquiries about the research elements of this project. More general information (tuition, health insurance, and payment schedule) can be found under the 'Students' tab above. Any further questions may be addressed to IFR staff. Additional details about research, course schedule, travel, accommodation, and safety can be found on the syllabus. Contacting the directors or the IFR office is encouraged and appreciated. It may help you determine if this field school is a good fit for you.
This is a new IFR field school. No student testimonials are available at this time.
Tuition Includes:
Cost of Instruction
Cost of Academic Credit Units
Room & Board
All local transportation
Health & Evacuation Insurance
Student Fees
This program requires an online application — there is no fee to submit an application. Once admitted, a payment of the nonrefundable deposit fee is required to secure a place in the program(s). The Tuition balance (total program cost minus the deposit fee) must be paid prior to the Tuition deadline as listed above under "Course Details." A $200 late fee will be added to all accounts not paid in full by the Tuition deadline.
Early Decision Enrollment (Nov 1, 2019 through Jan 10, 2020): A reduced, nonrefundable $300 deposit fee is required to secure a seat in the program. This deposit is part of the total Tuition and NOT in addition to it.
Regular Enrollment (Jan 11, 2020 through payment deadline): A nonrefundable $500 deposit fee is required to secure a seat in the program. This deposit is part of the total Tuition and NOT in addition to it.
Late Enrollment (payment deadline forward): A nonrefundable $600 deposit fee is required to secure a seat in the program. In addition, a $200 late fee  will be added to all accounts not paid in full by the Tuition payment deadline.
Withdrawal & Cancellation Policy: If you paid the deposit fee but did not cancel your participation by the Tuition payment deadline, you are legally responsible for the full Tuition regardless of attendance at any IFR program. Please carefully read our Withdrawal & Cancellation Policy for further information.
Credit Card Processing Fee: A 2.5% processing fee is automatically incurred for all credit/debit card/online payments.
Academic Credit Opt Out: Students who wish to participate in an IFR field school without earning academic credit units may do so and receive the following discounts: $300 off a full program (4 or more weeks in length) or $200 off a short program (2-3 weeks in length).
Trip Cancellation Insurance: The IFR does not provide trip cancellation insurance. Read this Wall Street Journal article about travel insurance — it may help in making a decision whether such insurance is for you. If you do wish to purchase such insurance, Insure My Trip or Travel Guard are two possible resources you may wish to explore.
Accommodations
Participants will stay at renovated air-conditioned cabins at the archaeological base next to the ancient ruins of Stobi. Students will be housed in rooms with 2-3 beds each. Each cabin has four bedrooms, a living room and two bathrooms with showers. A washing machine and Wi-Fi are available for free. 
The closest village to Stobi is Gradsko (4 km), where there are a couple of food & beverage shops, a pharmacy, an ATM and a medical office. The closest supermarkets, drug-stores, pharmacies, banks with ATM and hospitals are in the towns of Negotino, 12 km away, Kavadartsi, 17 km away, and Veles, 23 km away. 
Three meals (fresh, homemade food) per day are covered by the tuition fee. Meals, except for lunch packages during the excursion, usually take place at the field house premises in Stobi. This field school can accommodate vegetarians, vegans and individuals with lactose-intolerance diets. Kosher and gluten-free restrictions are impossible to accommodate in these locations.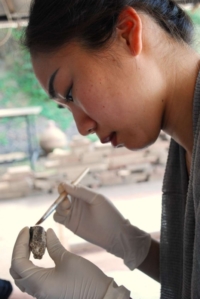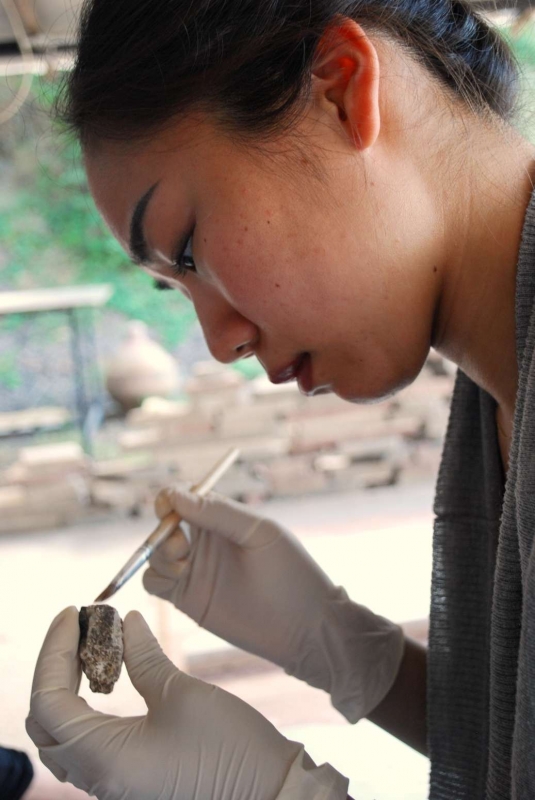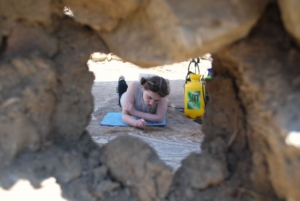 Travel Info
Please hold purchasing your airline ticket until six (6) weeks prior to departure date. Natural disasters, political changes, weather conditions and a range of other factors may require the cancellation of a field school. The IFR typically takes a close look at local conditions 6-7 weeks prior to program beginning and makes Go/No Go decisions by then. Such a time frame still allows the purchase of deeply discounted airline tickets while protecting students from potential loss of airline ticket costs if we decide to cancel a program.
Arrival: Please arrive on June 6, 2020, by 7.00 pm at the National Institution for Management of the Archaeological Site of Stobi, 1420 Gradsko, Republic of N. Macedonia (+389 43251 026). A transfer to Stobi from the airports in Skopje (R. of N. Macedonia) or Thessaloniki (Greece) may be arranged by request. Individual or group transfers' price may vary from 36-120 USD depending on both distance and number of passengers. (The prices may slightly vary due to the USD rate fluctuations.) The trip takes approximately 1.5 hours depending on traffic. It is recommended to exchange/withdraw some Macedonian Denars and buy a bottle of water and visit the restroom before the trip. 
If you missed your connection or your flight was delayed/canceled, call, text or email the project staff (email: bhfs.admissions@gmail.com). Local contact information will be provided to enrolled students. 
VISA REQUIREMENTS 
Citizens of EU, EEA, USA, Canada, Japan, Republic of Korea, Australia and New Zealand do not need a visa to visit R. of N. Macedonia for up to 90 days. 
Citizens of all other countries may need a visa. The Balkan Heritage Foundation can send an official invitation letter that should be used at the relevant embassy to secure a visa to the program. 
Note that if you plan to visit Turkey during your stay in the Balkans you will need a visa. The Turkish government facilitates the process for tourists by providing the option for obtaining an E Visa. 
For more information about border crossing visit the Balkan Heritage Field School web site and the links provided there. 
Student Safety
The IFR primary concern is with education. Traveling and conducting field research involve risk. Students interested in participating in IFR programs must weigh whether the potential risk is worth the value of education provided. While risk is inherent in everything we do, we do not take risk lightly. The IFR engages in intensive review of each field school location prior to approval. Once a program is accepted, the IFR reviews each program annually to make sure it complies with all our standards and policies, including student safety.
Students attending IFR international programs are covered by a comprehensive Health Insurance policy that includes physical illness or injury, mental or chronic conditions. No deductible and 100% of costs are covered up to $250,000. In addition, we provide Political and Natural Disaster Evacuation policy, which allow us to remove students from field school location if local conditions change. Our field school directors are scholars that know field school locations and cultures well and are plugged in into local communities and state institution structures.
Students attending IFR domestic programs (within the US) must have their own health insurance and provide proof upon enrollment. IFR field school directors are familiar with local authorities and if in need of evacuation, local emergency services and/or law enforcement will be notified and activated.
The IFR has strong, explicit and robust policy towards discrimination and harassment in the field. If students feel they cannot discuss personal safety issues with field school staff, the IFR operates an emergency hotline where students may contact IFR personnel directly.
Call us at 877-839-4374 or email us at info@ifrglobal.org if you have questions about the safety of any particular program.