Overview
The collection of ancient Egyptian artifacts in the Museo Egizio in Turin (Italy) is among the most important in the world. It includes the Old Kingdom Tomb of the Unknown, the New Kingdom Tomb of Kha and Merit, the Nubian Temple of Ellesiya, and the Turin Papyrus Map. This field school aims to contribute to the analysis and publication of selected ceramic artifacts and ancient textiles, with a special focus on production techniques and communities of practice. Students will have opportunities to be actively involved in all aspects of the preservation, study, and presentation of museum objects.
Course Details
Enrollment Status: CLOSED

Course Type: Museum Studies, Conservation

Instructors: Dr. Caroline Arbuckle MacLeod, Dr. Hans Barnard

Academic Credit: 8 Semester Credit Units (equivalent to 12 Quarter Units)
Instructors
The directors welcome emails and inquiries about the research elements of this project. More general information (tuition, health insurance, and payment schedule) can be found under the 'Students' tab above. Any further questions may be addressed to IFR staff. Additional details about research, course schedule, travel, accommodation, and safety can be found on the syllabus. Contacting the directors or the IFR office is encouraged and appreciated. It may help you determine if this field school is a good fit for you.
Learning about museum practices and Egyptian material culture in the Museo Egizio was an incredible experience. Being able to talk with museum staff and ask them questions about their work, experiences, and curatorial or conservation choices was unlike any other experience I had had before. The field school staff (Dr. Barnard, and 2 TA's, Vera and Rachel) were supportive, very knowledgable, approachable and extremely helpful. I learned so much over the course of the field school. The program includes lectures given by field school staff and museum staff (including the director of the Museo Egizio!) and field trips to museums and cultural and archaeological sites in Italy. We even got to take a field trip to one of the museum's outside conservationist's workshop! Being in the field school gives you unprecedented access to the material, collections and staff of the Museo Egizio. And Turin is an incredible city to live in for 5 weeks. On the weekends, there is time to travel across Italy because it is well connected on the high speed train (my peers I went to places like Florence, Venice, and the lakes district on the weekends). We worked with 3,000 year old pottery sherds and textiles fragments and got to learn how to do ceramic and textile analysis from experts at the museum! We got to tour the museum collections with museum conservators and learn about all aspects of the museum. The exposure to museum practices was incomparable and the overall experience was unequal to any other experience I had in museums prior.
Prepping for summer 2017 was extremely exciting but once I got to Turin, Italy the experience was better than I could have ever imagined. Amazing staff support is offered to students and you get to work closely with conservators of the Museo Egizio. Turin is a wonderful city located in northern Italy with many sites to see. All the participants of the program became fast friends during our communal lunches and dinners.
Tuition Includes:
Cost of Instruction
Cost of Academic Credit Units
Room & Board
All local transportation
Health & Evacuation Insurance
Student Fees
This program requires an online application — there is no fee to submit an application. Once admitted, a payment of the nonrefundable deposit fee is required to secure a place in the program(s). The Tuition balance (total program cost minus the deposit fee) must be paid prior to the Tuition deadline as listed above under "Course Details." A $200 late fee will be added to all accounts not paid in full by the Tuition deadline.
Early Decision Enrollment (Nov 1, 2019 through Jan 10, 2020): A reduced, nonrefundable $300 deposit fee is required to secure a seat in the program. This deposit is part of the total Tuition and NOT in addition to it.
Regular Enrollment (Jan 11, 2020 through payment deadline): A nonrefundable $500 deposit fee is required to secure a seat in the program. This deposit is part of the total Tuition and NOT in addition to it.
Late Enrollment (payment deadline forward): A nonrefundable $600 deposit fee is required to secure a seat in the program. In addition, a $200 late fee  will be added to all accounts not paid in full by the Tuition payment deadline.
Withdrawal & Cancellation Policy: If you paid the deposit fee but did not cancel your participation by the Tuition payment deadline, you are legally responsible for the full Tuition regardless of attendance at any IFR program. Please carefully read our Withdrawal & Cancellation Policy for further information.
Credit Card Processing Fee: A 2.5% processing fee is automatically incurred for all credit/debit card/online payments.
Academic Credit Opt Out: Students who wish to participate in an IFR field school without earning academic credit units may do so and receive the following discounts: $300 off a full program (4 or more weeks in length) or $200 off a short program (2-3 weeks in length).
Trip Cancellation Insurance: The IFR does not provide trip cancellation insurance. Read this Wall Street Journal article about travel insurance — it may help in making a decision whether such insurance is for you. If you do wish to purchase such insurance, Insure My Trip or Travel Guard are two possible resources you may wish to explore.
Accommodations
Turin (Torino), on the river Po, is the capital of the Piedmont (Piemonte) region in northwest Italy. Students and staff will stay in Camplus Lingotto, located in the former FIAT car factory in southern Turin, in a lively part of town that is well-connected with the historic center by public transport. The original building was designed by architect Matté Trucco and opened in 1923 as the largest car factory in the world at the time. The design was unusual with raw materials entering on the ground floor and cars being built in an assembly line that went up through the building. Finished cars emerged at an open-air test track on top of the fifth floor. The factory closed in 1982, leading to a public debate about the future of the building. Eventually the building was reimagined by the famous architect Renzo Piano, and now houses the Faculty of Automotive Engineering of the Polytechnic University of Turin, as well as an art gallery, a concert hall, a theatre, a convention center, shopping arcades, and student housing facilities, the latter run by Camplus College, which provides breakfast to its guests.
MEALS
On weekdays, students and staff will have lunch together in one of the many restaurants near the museum. On Wednesdays students and staff will also have dinner together. These communal lunches and dinners are considered part of the field school and the presence of all students is compulsory. Students with special dietary needs should discuss these with the project directors before traveling to Italy. In the weekends everyone is free to explore the many lunch and dining options available in Turin, alone or in small groups. Turin is one of the centers of Italian cuisine and food is fresh and well prepared.
See syllabus for further information on room & board.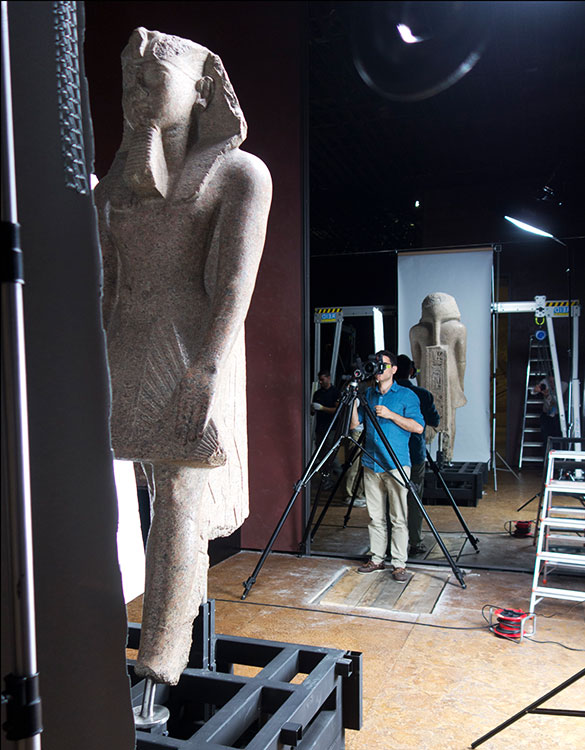 Travel Info
Please hold purchasing your airline ticket until six (6) weeks prior to departure date. Natural disasters, political changes, weather conditions and a range of other factors may require the cancellation of a field school. The IFR typically takes a close look at local conditions 6-7 weeks prior to program beginning and makes Go/No Go decisions by then. Such a time frame still allows the purchase of deeply discounted airline tickets while protecting students from potential loss of airline ticket costs if we decide to cancel a program.
Students are responsible for making the necessary arrangements to get to the accommodation on either Friday 14 or Saturday June 15, 2019 (first session), or Friday 26 or Saturday July 27, 2019 (second session). Turin has its own airport (Turin Caselle, TRN), but most international flights to the region land in one of the two airports near Milan: Milan Malpensa (MPX) or Milan Linate (LIN). There are frequent direct bus connections to central Turin from both Turin Caselle and Milan Malpensa. Buses connect Milan Linate to the central railway station in Milan, from where there are frequent fast trains to Turin. Traveling overland to Turin is possible with one of several train companies that maintain high-speed connections between Turin and most large cities in Italy. There are two main railway stations in Turin, Porta Nuova and Porta Susa, which is also where the buses from the airports terminate. From either railway station the Camplus student housing facility in the former FIAT car factory in Lingotto (via Nizza 230) is easily reached by public transport, including the subway (Metro), or by taxi. Taxis in Turin are reliable and relatively cheap.
Given the above, it is important to communicate detailed travel information well before your departure. If you miss your connection or your flight is significantly delayed, please contact the project director immediately. A local emergency cell-phone number will be provided to all enrolled students.
Students who are planning to travel around through Italy and Europe are encouraged to do so after the field school rather than before.
The project will conclude on either Sunday July 21, 2019 (first session), or Sunday August 31, 2019 (second session).
VISA REQUIREMENTS
A passport that is valid for at least six months after your departure date (March 2020 if you are only attending the field school) is necessary to travel into Italy. U.S. citizens may enter Italy for up to 90 days without a visa. All non-residents are required to complete a declaration of presence (dichiarazione di presenza) upon their arrival.
Non-U.S. citizens should consult the information provided by the Italian immigration website.
Non-E.U. visitors, including U.S. citizens, arriving overland in Italy from another Schengen state must request a declaration of presence form from a local police office (commissariato di zona), police headquarters (questura), or their first place of stay and submit the completed form to the police or their place of stay within eight business days.
Anyone intending to stay in Italy for longer than 90 days must obtain a permit of stay (permesso di soggiorno). For more information visit the US State Department website.
Student Safety
The IFR primary concern is with education. Traveling and conducting field research involve risk. Students interested in participating in IFR programs must weigh whether the potential risk is worth the value of education provided. While risk is inherent in everything we do, we do not take risk lightly. The IFR engages in intensive review of each field school location prior to approval. Once a program is accepted, the IFR reviews each program annually to make sure it complies with all our standards and policies, including student safety.
Students attending IFR international programs are covered by a comprehensive Health Insurance policy that includes physical illness or injury, mental or chronic conditions. No deductible and 100% of costs are covered up to $250,000. In addition, we provide Political and Natural Disaster Evacuation policy, which allow us to remove students from field school location if local conditions change. Our field school directors are scholars that know field school locations and cultures well and are plugged in into local communities and state institution structures.
Students attending IFR domestic programs (within the US) must have their own health insurance and provide proof upon enrollment. IFR field school directors are familiar with local authorities and if in need of evacuation, local emergency services and/or law enforcement will be notified and activated.
The IFR has strong, explicit and robust policy towards discrimination and harassment in the field. If students feel they cannot discuss personal safety issues with field school staff, the IFR operates an emergency hotline where students may contact IFR personnel directly.
Call (877-839-4374) or email (info@ifrglobal.org) if you have questions about the safety of any particular program.