Overview
Tel Abel Beth Maacah is a large multi-layered site in the Upper Galilee of Israel, strategically located at the intersection of ancient routes connecting Israel, Lebanon (Phoenicia) and Syria (Aram). The site appears in second millennium BCE Egyptian sources, in the Bible as loyal to King David in the 10th century BCE, and conquered by the Arameans and Neo-Assyrians in the 9th and 8th centuries BCE. Six seasons of excavation have revealed remains from the Middle Bronze, Late Bronze and Iron Ages. Of particular interest is the intensive Iron Age I-IIA occupation and intriguing traces of cultic activity. A rich assemblage of  finds, some of them unique, shed important new light on the interaction between  Israelites, Arameans and Phoenicians in this border zone. To learn more, go to the Abel Beth Maacha project website.
Course Details
Course Dates: June 27-July 23, 2021

Enrollment Status: CLOSED

Course Type: Field Archaeology

Instructors: Dr. Naama Yahalom-Mack, Dr. Nava Panitz-Cohen & Prof. Robert Mullins

Academic Credit: 8 Semester Credit Units (equivalent to 12 Quarter Units)
Instructors
The directors welcome emails and inquiries about the research elements of this project. More general information (tuition, health insurance, and payment schedule) can be found under the 'Students' tab above. Any further questions may be addressed to IFR staff. Additional details about research, course schedule, travel, accommodation, and safety can be found on the syllabus. Contacting the directors or the IFR office is encouraged and appreciated. It may help you determine if this field school is a good fit for you.
I first sought to attend the field school at Abel Beth Maacah through the IFR program because I wanted to understand what the region of northern Palestine and southern Syria might have looked like to those who dwelt there in antiquity. The perspective given in published academic works was not sufficient; I felt as if I was lacking crucial elements for the proper understanding of what shaped the relevant emerging cultures. It was only after participating in the 2018 Abel Beth Maacah excavations that I realized just how drastically my own conceptions had been altered. Now, I know how to gauge the extent to which I should rely upon the word of an excavation report in reconstructing historical events. I know what to look out for when observing a site's stratigraphy to establish a relative chronology. Most of all, I know exactly how the archaeological method can be used to explain various phenomena, such as the determination of whether a site was wholly or partially occupied during a given time frame. As an undergraduate history major, someone not directly involved in archaeological work, my experiences at Abel Beth Maacah have proved invaluable. The staff were incredibly helpful and will ensure you get what you need from the program, be it practical experience, educational information, or a mixture of both. It was truly a pleasant time for myself and many others, but those who attend are likely to realize that the greatest benefits are to be appreciated long after you have left.
Excavating at Tel Abel Beth Maacah is really a great experience. As an archaeology student, I was able to practice what I learned in class while gaining new knowledge about many aspects of archaeology, including defining stratigraphy, botanical sampling/sorting, and etc. Since this is my second excavation, I was able to learn the different approaches and methodologies used in Israel compare to other parts of the world. I consider this understanding to be important because methodologies should really adopt to local conditions while maintaining the scientific standard. The excavation itself was very intriguing and fun. It was an opportunity to exercise body and mind at the same time. Though biblical archaeology is not my future direction, I still found myself really intrigued by the mudbrick, ceramics, remains, and other artifacts. I also met great people here. All three instructors at the sites were really great and they were always ready to help. They planned two field trips and they also took us to swimming pool on a daily basis. I really recommend this field school to anyone who wants an indispensable experience.
My experience at Abel Beth Maacah this summer was absolutely wonderful. The staff, from our IFR leader to our excavation leader, were so invested both in the history and our learning. The work was physically grueling at times, but it brought our field school team closer together. The friends I made from the program and from volunteers who filtered through the dig during the four weeks are amazing and I am meeting up with some of them later in the month. I would highly recommend this dig, knowing that you'll learn a ton, be in a beautiful part of Israel, and might even build some muscles doing it.
The IFR excavation at Tel Abel Beth Maccah was one of the most rewarding and fulfilling experiences! It was my first archaeological excavation so I was a little nervous going into it. Everyone in the project was so helpful and friendly. The dig is run by three amazing professors who really encourage learning and skill building. The facilities and food are wonderful and the staff are very accommodating. If you like chicken then this project is for you. The IFR group of students forms a very special bond and becomes close friends, and you make tons of other friends during the excavation. I would return in a heartbeat!
Tuition Includes:
Cost of Instruction
Cost of Academic Credits Units
Room & Board
All Local Transportation
Health & Evacuation Insurance
Student Fees
This program requires an online application — there is no fee to submit an application. Once admitted, a payment of the nonrefundable deposit fee is required to secure a place in the program(s). The Tuition balance (total program cost minus the deposit fee) must be paid prior to the Tuition deadline as listed above under "Course Details." A $200 late fee will be added to all accounts not paid in full by the Tuition deadline.
Early Decision Enrollment (Nov 1, 2019 through Jan 10, 2020): A reduced, nonrefundable $300 deposit fee is required to secure a seat in the program. This deposit is part of the total Tuition and NOT in addition to it.
Regular Enrollment (Jan 11, 2020 through payment deadline): A nonrefundable $500 deposit fee is required to secure a seat in the program. This deposit is part of the total Tuition and NOT in addition to it.
Late Enrollment (payment deadline forward): A nonrefundable $600 deposit fee is required to secure a seat in the program. In addition, a $200 late fee  will be added to all accounts not paid in full by the Tuition payment deadline.
Withdrawal & Cancellation Policy: If you paid the deposit fee but did not cancel your participation by the Tuition payment deadline, you are legally responsible for the full Tuition regardless of attendance at any IFR program. Please carefully read our Withdrawal & Cancellation Policy for further information.
Credit Card Processing Fee: A 2.5% processing fee is automatically incurred for all credit/debit card/online payments.
Academic Credit Opt Out: Students who wish to participate in an IFR field school without earning academic credit units may do so and receive the following discounts: $300 off a full program (4 or more weeks in length) or $200 off a short program (2-3 weeks in length).
Trip Cancellation Insurance: The IFR does not provide trip cancellation insurance. Read this Wall Street Journal article about travel insurance — it may help in making a decision whether such insurance is for you. If you do wish to purchase such insurance, Insure My Trip or Travel Guard are two possible resources you may wish to explore.
Accommodations
Students will live in comfortable and clean housing at Kibbutz Kfar Szold in the Hula Valley, a 15 minute ride from the tell and from the town of Kiryat Shemonah.  Air-conditioned rooms accommodate three or four people and include an equipped kitchenette and a bathroom with a shower. Each room has a porch that opens to a communal lawn. Linens and towels are provided. Rooms are cleaned twice a week. Free Wi-Fi is available in the rooms. The kibbutz has a spring, a pool and a convenience store.
All meals are communal events and will provide plenty of nutritious food in the tradition of local Israeli cuisine, heavy on fresh fruits and vegetables, and may include hummus, tehina, falafel, and other local specialties, alongside the usual staples of chicken, meat, and fish. A rich breakfast buffet is served in the field during the week. Lunch and dinner take place in the kibbutz dining room. All meals on the weekend are in the kibbutz dining room. Bread, jam, and peanut butter are provided during the week to prepare an early-morning snack in your room. The food is kosher. We can accommodate vegetarian, gluten-free and vegan diets.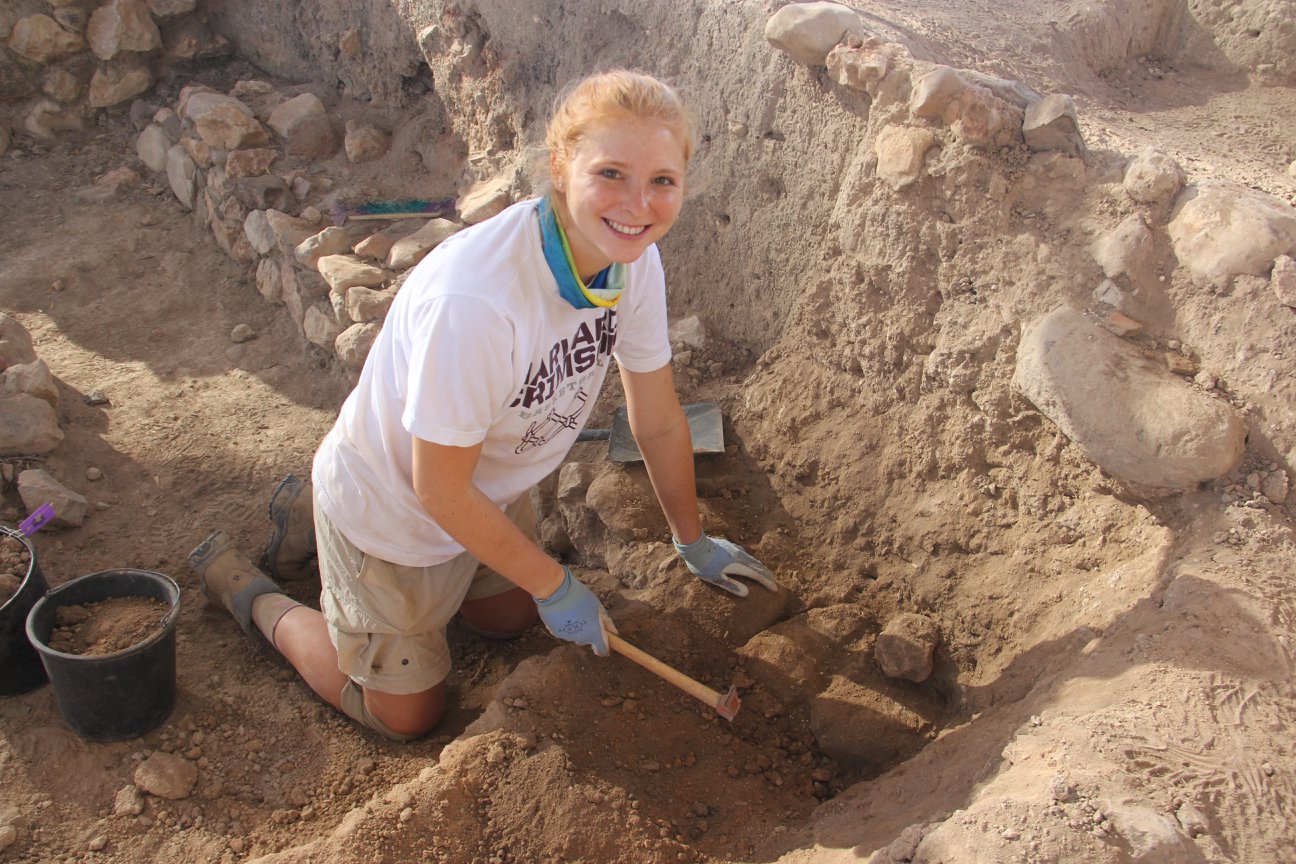 Travel Info
Please wait to purchase your airline ticket until six (6) weeks prior to departure date. Natural disasters, political changes, weather conditions and a range of other factors may require the cancellation of a field school. The IFR typically takes a close look at local conditions 6-7 weeks prior to program beginning and make Go/No Go decisions by then. Such time frame still allows the purchase deeply discounted airline tickets while protecting students from potential loss if airline ticket costs if we decide to cancel a program.
All planes to Israel land at Ben Gurion International Airport near Tel Aviv. Students are encouraged to arrive in Israel a few days early in order to sightsee in Jerusalem before the start of the dig. A private bus will take staff and students from the meeting point in Jerusalem directly to our lodging in Kibbutz Kfar Szold,at 13:00 on Sunday, June 23. We will provide instructions on how to get to the meeting point in Jerusalem, recommended places to stay, and a sample itinerary of activities.
If you arrive in Israel after the Jerusalem bus has left for the kibbutz, we will provide you with detailed travel instructions on how to take public transportation from the airport to the town of Kiryat Shemonah. When you arrive in Kiryat Shemonah, you will call or text a staff member who will pick you up at the bus station. The train or bus service in Israel is easily accessible and affordable. English is widely spoken and the chances are good that you will find French, German, Spanish, and Arabic speakers as well.
If you missed your connection or your flight is delayed, please call, text, or email a project director. A local emergency cell phone number will be provided to all students enrolled in the field school.
VISA REQUIREMENTS
Students should enter Israel on a tourist visa. See syllabus for further instructions.
Student Safety
The IFR primary concern is with education. Traveling and conducting field research involve risk. Students interested in participating in IFR programs must weigh whether the potential risk is worth the value of education provided. While risk is inherent in everything we do, we do not take risk lightly. The IFR engages in intensive review of each field school location prior to approval. Once a program is accepted, the IFR reviews each program annually to make sure it complies with all our standards and policies, including student safety.
Students attending IFR international programs are covered by a comprehensive Health Insurance policy that includes physical illness or injury, mental or chronic conditions. No deductible and 100% of costs are covered up to $250,000. In addition, we provide Political and Natural Disaster Evacuation policy, which allow us to remove students from field school location if local conditions change. Our field school directors are scholars that know field school locations and cultures well and are plugged in into local communities and state institution structures.
Students attending IFR domestic programs (within the US) must have their own health insurance and provide proof upon enrollment. IFR field school directors are familiar with local authorities and if in need of evacuation, local emergency services and/or law enforcement will be notified and activated.
The IFR has strong, explicit and robust policy towards discrimination and harassment in the field. If students feel they cannot discuss personal safety issues with field school staff, the IFR operates an emergency hotline where students may contact IFR personnel directly.
Call (877-839-4374) or email (info@ifrglobal.org) if you have questions about the safety of any particular program.