This program is a short introduction to Environmental Science (ES) work. It is designed to present students with the basic fundamentals of field work and a taste for the rigor of field research. Students considering a full field school experience should apply to any of our standard 4-5 week-long programs. 
Overview
The island of Borneo is one of the most biodiverse places on the planet, home to a large array of endemic species and unique ecosystems. The Borneo Nature Foundation (BNF) is a not-for-profit conservation and research organization that works to protect some of the most important areas of tropical rainforest in Borneo and safeguard their incredible wildlife, including the critically endangered Bornean orangutan. Our wide-ranging biodiversity and forestry research is used to make the case for conservation and demonstrate the harmful impacts of human disturbance. This residential field school will be based in the Sebangau peat-swamp forest in Central Kalimantan, Indonesian Borneo, which is the largest remaining lowland forest on Borneo, is home to the world's largest protected orangutan population and where BNF have been conducting research since 1999. This field course will provide insight into the tropical peat-swamp forests of Indonesian Borneo, focusing on the ecology and biodiversity of these ecosystems; local livelihood needs and priorities; the impacts of human activities on biodiversity and social benefits; current conservation challenges; and local, national and international efforts to mitigate these threats. Teaching will be through both lectures and fieldwork in the forest, drawing upon the Sebangau research projects led by BNF and others, to illustrate relevant topics and teach field research methods. This will provide practical experience with in situ scientific research and conservation efforts in the Indonesian rainforest environment.
Course Details
Course Dates: Jan 25-Feb 8, 2021

Enrollment Status: CLOSED

Tuition: $2,505

Course Type: ES, Ecology & Conservation

Payment Deadline: April 24, 2020

Instructors: Dr. Mark E. Harrison

Academic Credit: 2 Semester Credit Units  (equivalent to 3 Quarter Units)
Instructors
The directors welcome emails and inquiries about the research elements of this project. More general information (tuition, health insurance, and payment schedule) can be found under the 'Students' tab above. Any further questions may be addressed to IFR staff. Additional details about research, course schedule, travel, accommodation, and safety can be found on the syllabus. Contacting the directors or the IFR office is encouraged and appreciated. It may help you determine if this field school is a good fit for you.
The field course with BNF provides a potted, holistic experience to conservation: hydrology, reforestation, drone technology, biodiversity surveys, community engagement, firefighting, conservation education, as well as following singing gibbons and curious orang-utans through a peat swamp forest. Exploring the forest was fascinating: an experience I never tired of, even if I was physically tired at the end of the day. Lectures were informal but informative and it was great to work alongside all of the helpful staff, both local and non-local. The camp is friendly and relaxed, having a family feel to it and whether you are vegan, vegetarian or omnivore, Lis and his kitchen team turn out delicious, nutritious food three times per day. But the most memorable thing, apart from coming face-to-face with a male orang-utan, was waking up to the melodious improvisations of the white-bearded gibbons. For me the whole experience was was life changing! I have changed career and started an MSc in Primate Conservation. Can't wait to go back to Sebangau!
My time in the Sabangau peat swamp forest of Borneo is one that I'll carry with me always. From monitoring indicator species to collecting phenology data and measuring trees, the BNF Field Course provided a remarkable amount of in situ training as a field conservationist. Every member of the staff is an ecologist of sorts with unique skills in wildlife observation technical expertise that they are happy to share. Thank you for all the knowledge and inspiration!
Tuition Includes:
Cost of Instruction
Cost of Academic Credit Units
Room & Board
All Local Transportation
Health & Evacuation Insurance
Student Fees
This program requires an online application — there is no fee to submit an application. Once admitted, a payment of the nonrefundable deposit fee is required to secure a place in the program(s). The Tuition balance (total program cost minus the deposit fee) must be paid prior to the Tuition deadline as listed above under "Course Details." A $200 late fee will be added to all accounts not paid in full by the Tuition deadline.
Early Decision Enrollment (Aug 1, 2019 through Oct 15, 2020): A reduced, nonrefundable $300 deposit fee is required to secure a seat in the program. This deposit is part of the total Tuition and NOT in addition to it.
Regular Enrollment (Nov 1, 2019 through payment deadline): A nonrefundable $500 deposit fee is required to secure a seat in the program. This deposit is part of the total Tuition and NOT in addition to it.
Late Enrollment (payment deadline forward): A nonrefundable $600 deposit fee is required to secure a seat in the program. In addition, a $200 late fee  will be added to all accounts not paid in full by the Tuition payment deadline.
Withdrawal & Cancellation Policy: If you paid the deposit fee but did not cancel your participation by the Tuition payment deadline, you are legally responsible for the full Tuition regardless of attendance at any IFR program. Please carefully read our Withdrawal & Cancellation Policy for further information.
Credit Card Processing Fee: A 2.5% processing fee is automatically incurred for all credit/debit card/online payments.
Academic Credit Opt Out: Students who wish to participate in an IFR field school without earning academic credit units may do so and receive the following discounts: $300 off a full program (4 or more weeks in length) or $200 off a short program (2-3 weeks in length).
Trip Cancellation Insurance: The IFR does not provide trip cancellation insurance. Read this Wall Street Journal article about travel insurance — it may help in making a decision whether such insurance is for you. If you do wish to purchase such insurance, AON Student Insurance, Insuremytrip.com or Travelguard.com are two possible resources you may wish to explore.
Accommodations
At the field site, students sleep on single beds in single-sex dormitories at camp, equipped with mosquito nets, pillows, mattresses and sheets provided by BNF. Students should bring their own sleeping bag/sleeping liner. Shelves and plastic storage boxes are provided for personal belongings. Separate plastic storage boxes are provided for storing snacks. There is no air conditioning or fans available at the camp. There is a common area with a set of tables for the students to work at and a separate meeting/workshop area within the housing facilities for lectures to be carried out. Students are responsible for hand washing their own clothes. There is a large area with all washing equipment provided in camp.
At camp all toilets are squat toilets, the same as throughout Indonesia, and the camp is equipped with a sewage system. Toilet paper is provided for all students, but this is not flushed down the toilets; it is put in bins and disposed of separately. The bathroom in Indonesia is called a 'mandi'. 'To mandi' is to take a shower – these are cubicles with a water supply, in a large bucket, which you pour over yourself. There is no hot water, but water is instead pumped from underneath the peat-swamp surface to be used for the bathrooms and washing facilities.
Camp is equipped with a generator, which runs from 5-10 PM every evening, providing time to charge equipment, phones and digital cameras. While at camp and within the forest, the internet signal is strong enough to send and receive emails sporadically and Whatsapp family and friends. There is no WiFi, so students need to simply unlock their US SIM card and purchase and Indonesian SIM card that is specifically for internet, which usually costs about US$5.
Meals are served at camp regularly at 7am, midday and at 6pm. Snacks are also available every day for students to bring into the field with them. Meals are traditional Indonesian food, which includes rice with every meal. Drinking water and hot water for tea, coffee and hot chocolate is freely available at camp. BNF makes every effort to accommodate vegetarian, vegan and any other dietary preferences/food allergies at camp. This will be more difficult for the time spent in the city of Palangka Raya, especially for vegans, so BNF recommends student consider bringing supplements/multi-vitamins along with them. Please note: a severe peanut, soy or egg allergy could be difficult to accommodate, as these foods are used frequently in Indonesian cooking, but BNF has no problem with accommodating gluten or lactose intolerant diets.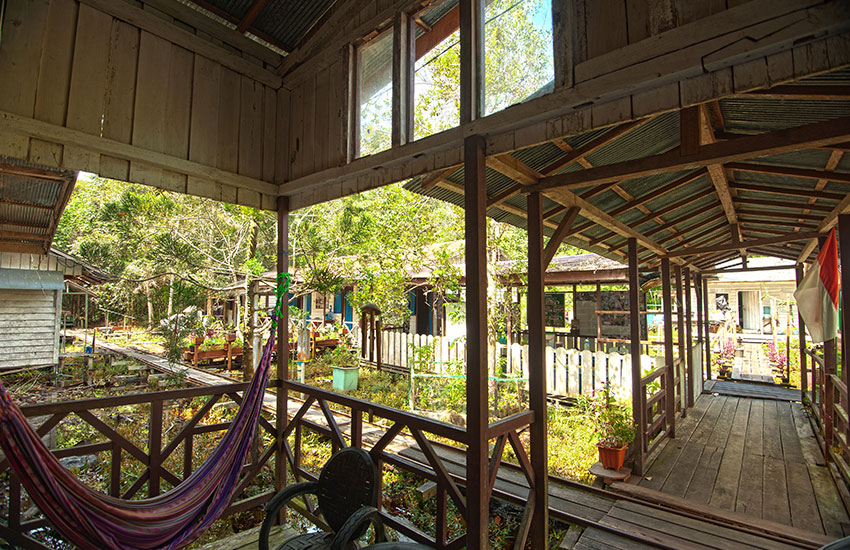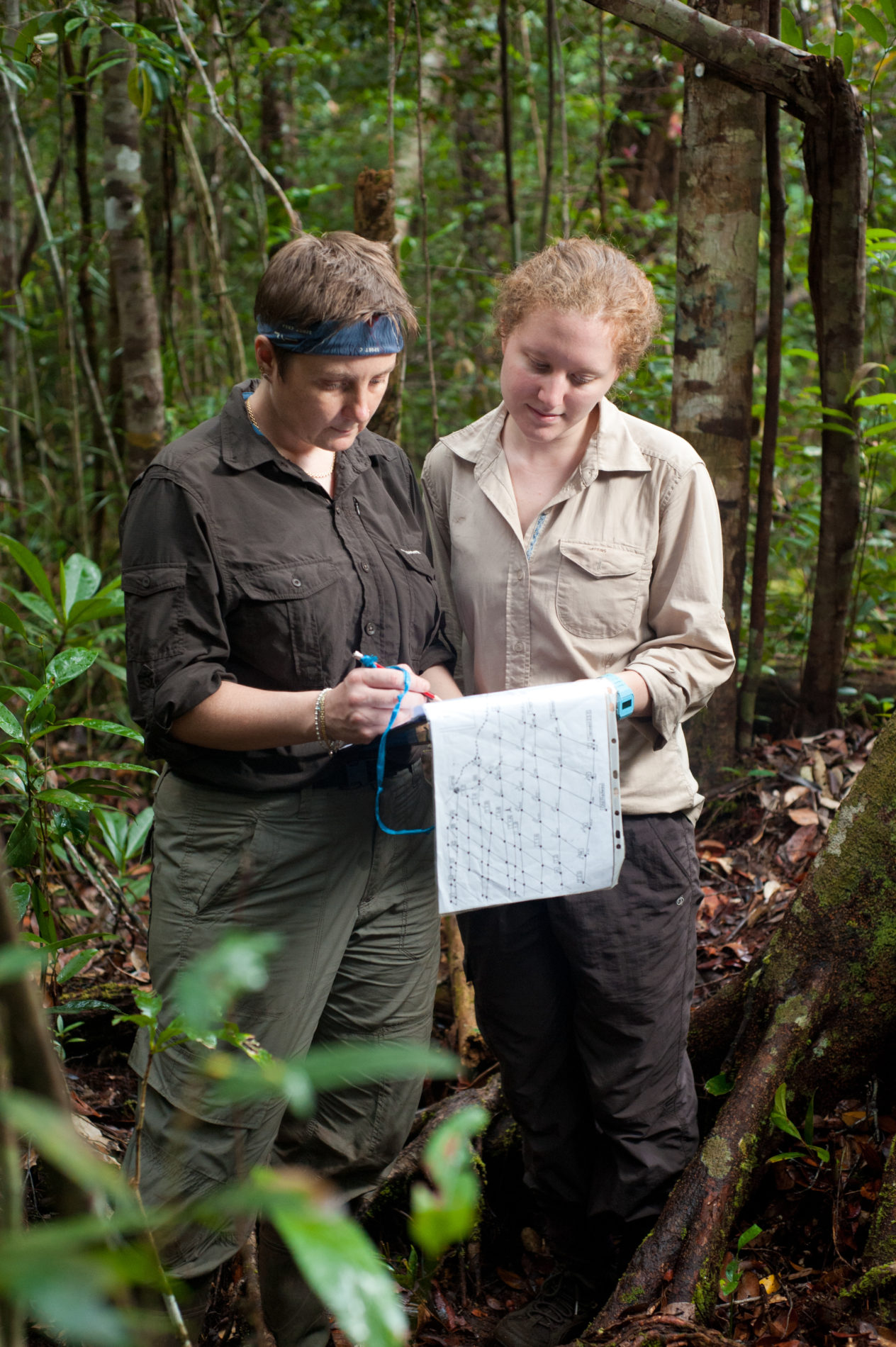 Travel Info
Please hold purchasing your airline ticket until six (6) weeks prior to departure date. Natural disasters, political changes, weather conditions and a range of other factors may require the cancellation of a field school. The IFR typically takes a close look at local conditions 6-7 weeks prior to program beginning and makes Go/No Go decisions by then. Such a time frame still allows the purchase of deeply discounted airline tickets while protecting students from potential loss of airline ticket costs if we decide to cancel a program.
Students can book their international and domestic flight together through a travel agency or online flight search engine or fly into Soekarno Airport in Jakarta and then book a return domestic flight from Jakarta to Tjilik Riwut Airport in Palangka Raya. Tjilik Riwut Airport is not an international airport. At immigration in Indonesia, agents will require students to show a return ticket out of the country, so it is necessary to purchase a ticket to leave the country before starting your journey. For international flights, United, American or Asian airlines such as ANA, Japan Airlines are usually the cheapest flights flying from the US to Indonesia. These can be booked using a travel agency, the airline's website or cut-price websites, like expedia.com, skyscanner.com or priceline.com.
Students need to book their flight to arrive into Palangka Raya on the start date of the course. For the outward journey, BNF requests students to book either the Garuda flight departing from Jakarta at 1455h or the Lion Air flight departing at 1140h. For the return journey, BNF requests students to book the Garuda flight from Palangka Raya to Jakarta departing at 8:20am or the Citilink flight departing at 9:25am on the day the course finishes.
Upon arrival, students will be greeted by Borneo Nature Foundation staff at the arrivals exit of Tjilik Riwut Airport. Please be advised, if students choose to book other flights, we will not be responsible from transport to and from the airport and hotel, and students will be required to arrange their own transportation to the hotel in Palangka Raya. We recommend ensuring at least four hours between your domestic arrival/departure time and international arrival/departure time for transferring at Jakarta International Airport. If students miss their connection or flight is delayed, please contact join@borneonature.org. A local emergency cell phone number will be provided to all enrolled students. We request that all students send a copy of their itinerary to join@borneonature.org at least two weeks prior to their arrival to arrange meeting at the airport.
VISA Requirements
Please see syllabus for detailed instructions on how to obtain a Social Cultural Visa to travel to Indonesia. 
Student Safety
The IFR primary concern is with education. Traveling and conducting field research involve risk. Students interested in participating in IFR programs must weigh whether the potential risk is worth the value of education provided. While risk is inherent in everything we do, we do not take risk lightly. The IFR engages in intensive review of each field school location prior to approval. Once a program is accepted, the IFR reviews each program annually to make sure it complies with all our standards and policies, including student safety.
Students attending IFR international programs are covered by a comprehensive Health Insurance policy that includes physical illness or injury, mental or chronic conditions. No deductible and 100% of costs are covered up to $250,000. In addition, we provide Political and Natural Disaster Evacuation policy, which allow us to remove students from field school location if local conditions change. Our field school directors are scholars that know field school locations and cultures well and are plugged in into local communities and state institution structures.
Students attending IFR domestic programs (within the US) must have their own health insurance and provide proof upon enrollment. IFR field school directors are familiar with local authorities and if in need of evacuation, local emergency services and/or law enforcement will be notified and activated.
The IFR has strong, explicit and robust policy towards discrimination and harassment in the field. If students feel they cannot discuss personal safety issues with field school staff, the IFR operates an emergency hotline where students may contact IFR personnel directly.
Call (877-839-4374) or email (info@ifrglobal.org) if you have questions about the safety of any particular program.