Overview
The site of Malvieu – located deep in the heart of the Montagne Noire (Black Mountains) – was built on the upper part of a limestone hill with commanding views of the Salesses Valley. Malvieu is an oppida – a hillfort – constructed from mud-brick and stone houses, with streets and a fortified stone rampart. The traditional view is that oppidas appear in Southern France as a response to the founding of the Greek colonies and the subsequent increase in seaborne trade in the northwestern Mediterranean Sea during the Early Iron Age. Archaeologists argued that native population developed increasingly productive economies and to protect new found wealth, they construct enclosed, defensible settlements on hilltops. Beginning in 2001, results from excavations at Malvieu have largely challenged this hypothesis. The occupation site was initially occupied, and fortification built during the Late Bronze Age (ca. 1000 BCE) significantly earlier than thought and certainly before Greek colonies or seaborne trade made an impact in the area. The Malvieu project offers a unique and exciting opportunity to critically evaluate existing paradigms and follow the evolution an ancient community, from its beginning to its demise. In a broader perspective, evidence from Malviue suggest that significant political, cultural and economic activity took place in Southern France before the arrival of outside forces. If true, this evidence deeply challenges the notion that the end of the Late Bronze and beginning of the Iron Age should be viewed as a regional Dark Ages.
The 2020 season will continue work on the upper sections of the site as well as excavations around the southern gate of Malvieu. Our goal is to generate new data about space and space-use in the context of a long-term perspective. The 2020 campaign will therefore represent a significant step forward in our understanding of the social dynamics operating during the Early Iron Age in the area and potentially a template to better understand and provide more granular interpretation of social, economic and political changes impacting many regions of the Mediterranean area in southern France.
Course Details
Course Dates: Mid June-Mid July, 2021

Enrollment Status: CLOSED

Course Type: Field Archaeology

Instructor: Dr. Alexis Gorgues

Academic Credit: 8 Semester Credit Units (equivalent to 12 Quarter Units)
Instructors
The directors welcome emails and inquiries about the research elements of this project. More general information (tuition, health insurance, and payment schedule) can be found under the 'Students' tab above. Any further questions may be addressed to IFR staff. Additional details about research, course schedule, travel, accommodation, and safety can be found on the syllabus. Contacting the directors or the IFR office is encouraged and appreciated. It may help you determine if this field school is a good fit for you.
When I enrolled in this program, I didn't really know what to expect. I didn't have any background in Archaeology, but I knew that I wanted to learn more about it. Malvieu is a fascinating yet challenging site which makes it more rewarding. Dr. Gorgues, Dr. Bertaud, and everyone else were patient and made sure that I was learning and enjoying myself at the same time. The whole team is great and being surrounded by such people made me motivated to strive for more.
Tuition Includes:
Cost of Instruction
Cost of Academic Credit Units
Room & Board
All local transportation
Health & Evacuation Insurance
Student Fees
This program requires an online application — there is no fee to submit an application. Once admitted, a payment of the nonrefundable deposit fee is required to secure a place in the program(s). The Tuition balance (total program cost minus the deposit fee) must be paid prior to the Tuition deadline as listed above under "Course Details." A $200 late fee will be added to all accounts not paid in full by the Tuition deadline.
Early Decision Enrollment (Nov 1, 2019 through Jan 10, 2020): A reduced, nonrefundable $300 deposit fee is required to secure a seat in the program. This deposit is part of the total Tuition and NOT in addition to it.
Regular Enrollment (Jan 11, 2020 through payment deadline): A nonrefundable $500 deposit fee is required to secure a seat in the program. This deposit is part of the total Tuition and NOT in addition to it.
Late Enrollment (payment deadline forward): A nonrefundable $600 deposit fee is required to secure a seat in the program. In addition, a $200 late fee  will be added to all accounts not paid in full by the Tuition payment deadline.
Withdrawal & Cancellation Policy: If you paid the deposit fee but did not cancel your participation by the Tuition payment deadline, you are legally responsible for the full Tuition regardless of attendance at any IFR program. Please carefully read our Withdrawal & Cancellation Policy for further information.
Credit Card Processing Fee: A 2.5% processing fee is automatically incurred for all credit/debit card/online payments.
Academic Credit Opt Out: Students who wish to participate in an IFR field school without earning academic credit units may do so and receive the following discounts: $300 off a full program (4 or more weeks in length) or $200 off a short program (2-3 weeks in length).
Trip Cancellation Insurance: The IFR does not provide trip cancellation insurance. Read this Wall Street Journal article about travel insurance — it may help in making a decision whether such insurance is for you. If you do wish to purchase such insurance, Insure My Trip or Travel Guard are two possible resources you may wish to explore.
Accommodations
Housing will be provided in Saint-Pons-de-Thomières, a charming town of southern France, in the valley of the Jaur, in a small structure called the Campotel du Jaur. Students will be housed in small but comfortable apartments of 4 beds, each one with its own kitchen and bathroom. Apartments will be shared between the US and French students. Most of the meals will be prepared by the students themselves. In the evening, the dinner will be a communal event with the entire team while lunch will be taken separately in each apartment (to provide time for a possible nap). Shopping for ingredients will be done by the staff for the whole team. In such conditions, some accommodation can be made for vegetarians, but at the risk of monotony in the diet (rice, noodles, etc.). Specialized diets such as vegan, kosher, and gluten free will be difficult to accommodate.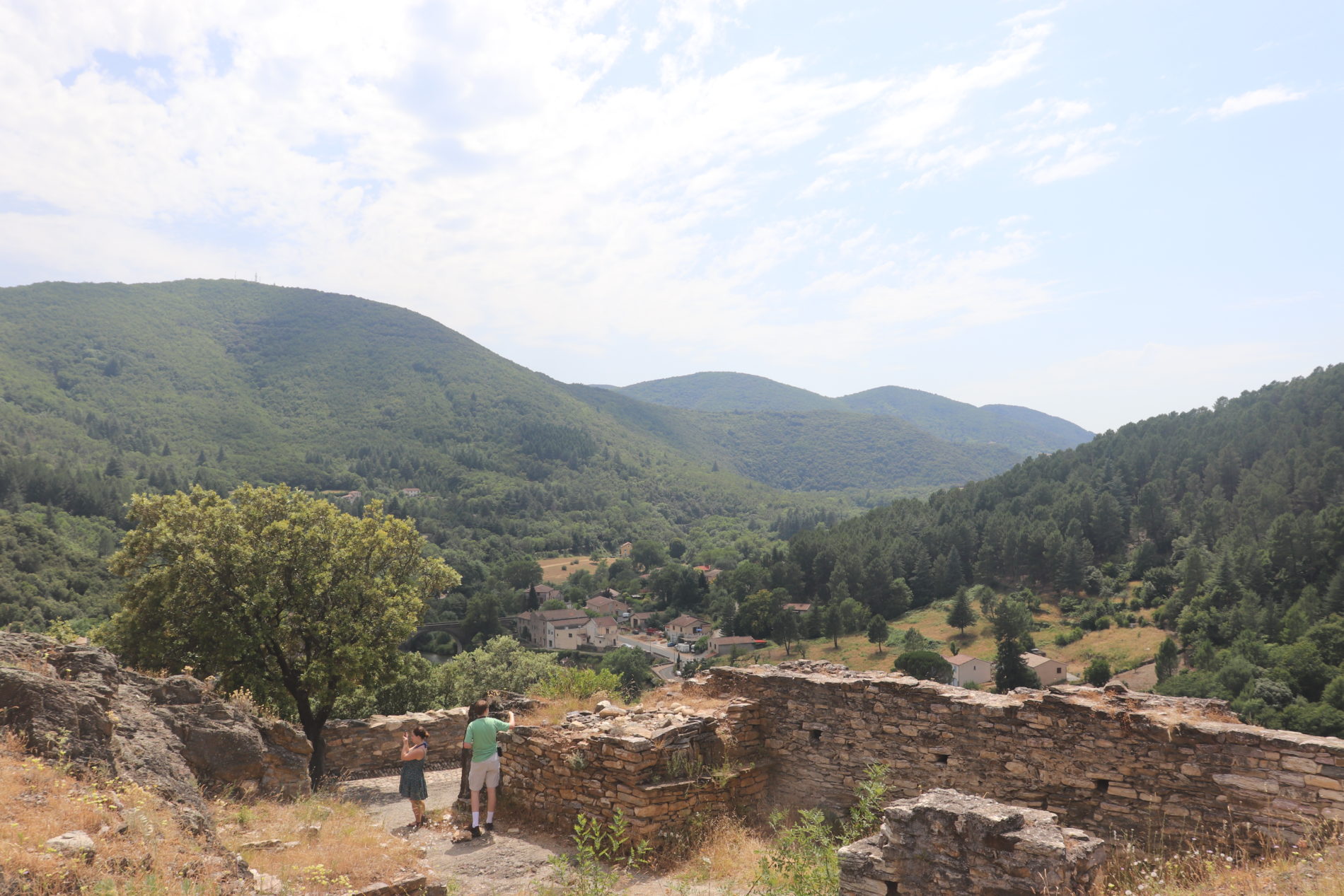 Travel Info
Please wait to purchase your airline ticket until six (6) weeks prior to departure date. Natural disasters, political changes, weather conditions and a range of other factors may require the cancellation of a field school. The IFR typically takes a close look at local conditions 6-7 weeks prior to program beginning and make Go/No Go decisions by then. Such a time frame still allows purchase of discounted airline tickets while protecting students from potential loss of airline ticket costs if we decide to cancel a program.
The meeting point will be at Mazamet (Tarn, France) Train Station, on Sunday June 16. For those reaching Toulouse by air (probably the most direct connection from the US): take tram Line 1 to the Palais de Justice station (terminus of the line), and the metro L2 to "Marengo SNCF" station, and there take a train to Mazamet.
For people reaching Toulouse from Paris by train, change trains at Toulouse-Matabiau station towards Mazamet.
Mazamet is 40 km away from Saint-Pons, but it is the nearest train station. Pick-up by staff members will be organized according to the hour of arrival of the students, in two or three rotations.
If you missed your connection, your flight is delayed, or if you have any other problem, please call or text project director immediately.  A local emergency cell phone number will be provided to all enrolled students.
VISA REQUIREMENTS
US students only require a valid passport (no visa) to enter France and stay there for less than 90 days, including for short academic stays. France is part of the Schengen agreement. An immigration officer can ask you to show sufficient funds for your stay and a return ticket. No vaccines are required.
Citizens of other countries are asked to check the website for the French Embassy at their home country for specific visa requirements.
Student Safety
The IFR primary concern is with education. Traveling and conducting field research involve risk. Students interested in participating in IFR programs must weigh whether the potential risk is worth the value of education provided. While risk is inherent in everything we do, we do not take risk lightly. The IFR engages in intensive review of each field school location prior to approval. Once a program is accepted, the IFR reviews each program annually to make sure it complies with all our standards and policies, including student safety.
Students attending IFR international programs are covered by a comprehensive Health Insurance policy that includes physical illness or injury, mental or chronic conditions. No deductible and 100% of costs are covered up to $250,000. In addition, we provide Political and Natural Disaster Evacuation policy, which allow us to remove students from field school location if local conditions change. Our field school directors are scholars that know field school locations and cultures well and are plugged in into local communities and state institution structures.
Students attending IFR domestic programs (within the US) must have their own health insurance and provide proof upon enrollment. IFR field school directors are familiar with local authorities and if in need of evacuation, local emergency services and/or law enforcement will be notified and activated.
The IFR has a strong, explicit and robust policy towards discrimination and harassment in the field. If students feel they cannot discuss personal safety issues with field school staff, the IFR operates an emergency hotline where students may contact IFR personnel directly.
Call (877-839-4374) or email (info@ifrglobal.org) if you have questions about the safety of any particular program.