Overview
The Guanacaste Archaeological Project (GAP) focuses on the Palo Verde National Park on Costa Rica's Pacific Coast, a protected Ramsar Wetland, wildlife refuge, and one of the last remaining tropical dry rainforests in the Neotropics. Situated near the mouth of the Tempisque River on the Gulf of Nicoya, the park features deep archaeological sequences dating from at least 800 BC to as late as the time of Spanish contact, with some of the earliest evidence for human activity in this culturally diverse region. This field school will begin with one week of lecture and study focusing on pre-Columbian culture at the University of Costa Rica in the capital city of San Jose in the Central Highlands (incorporating field trips to the city's world-class museums), followed by four weeks of field survey, mapping, excavation, and laboratory training at Palo Verde. Here students will have the unique opportunity to intensively explore pre-Columbian cultural continuity and change across various archaeological contexts, potentially including open-air sites, shell mounds, caves, and developed community areas clustered within the park. Participants will assist the project in identifying and reconstructing the organization and function of individual sites, assessing community development (material culture, mortuary practices, seasonal mobility, foodways, and estuary resource exploitation strategies), and examining the relationship between sites across time in an unparalleled ecological setting.
Course Details
Enrollment Status: CLOSED

Course Type: Field Archaeology

Instructors:

Dr. Carrie Dennett, Dr. Larry Steinbrenner, Dr. Silvia Salgado, Gonz

á

lez

Academic Credit: 8 Semester Credit Units (equivalent to 12 Quarter Units)
Instructors
The directors welcome emails and inquiries about the research elements of this project. More general information (tuition, health insurance, and payment schedule) can be found under the 'Students' tab above. Any further questions may be addressed to IFR staff. Additional details about research, course schedule, travel, accommodation, and safety can be found on the syllabus. Contacting the directors or the IFR office is encouraged and appreciated. It may help you determine if this field school is a good fit for you.
This is a new IFR field school.
Tuition Includes:
Cost of Instruction
Cost of Academic Credit Units
Room & Board
All Local Transportation
Health & Evacuation Insurance
Student Fees
This program requires an online application — there is no fee to submit an application. Once admitted, a payment of the nonrefundable deposit fee is required to secure a place in the program(s). The Tuition balance (total program cost minus the deposit fee) must be paid prior to the Tuition deadline as listed above under "Course Details." A $200 late fee will be added to all accounts not paid in full by the Tuition deadline.
Early Decision Enrollment (Nov 1, 2019 through Jan 10, 2020): A reduced, nonrefundable $300 deposit fee is required to secure a seat in the program. This deposit is part of the total Tuition and NOT in addition to it.
Regular Enrollment (Jan 11, 2020 through payment deadline): A nonrefundable $500 deposit fee is required to secure a seat in the program. This deposit is part of the total Tuition and NOT in addition to it.
Late Enrollment (payment deadline forward): A nonrefundable $600 deposit fee is required to secure a seat in the program. In addition, a $200 late fee  will be added to all accounts not paid in full by the Tuition payment deadline.
Withdrawal & Cancellation Policy: If you paid the deposit fee but did not cancel your participation by the Tuition payment deadline, you are legally responsible for the full Tuition regardless of attendance at any IFR program. Please carefully read our Withdrawal & Cancellation Policy for further information.
Credit Card Processing Fee: A 2.5% processing fee is automatically incurred for all credit/debit card/online payments.
Academic Credit Opt Out: Students who wish to participate in an IFR field school without earning academic credit units may do so and receive the following discounts: $300 off a full program (4 or more weeks in length) or $200 off a short program (2-3 weeks in length).
Trip Cancellation Insurance: The IFR does not provide trip cancellation insurance. Read this Wall Street Journal article about travel insurance — it may help in making a decision whether such insurance is for you. If you do wish to purchase such insurance, Insure My Trip or Travel Guard are two possible resources you may wish to explore.
Accommodations
During the first week of the project in San Jose, students and non-Costa Rican staff will be housed in modest hotels (shared rooms) in San Jose. During the subsequent four weeks of the project, students and non-Costa Rican staff will stay in shared accommodations in rental housing in Bagaces, Guanacaste, the closest full-service city to the Palo Verde National Park. Housing will be maintained (cleaned and secured) by vetted, hired staff from the local community. Conditions will be basic but modern; air conditioning will likely not be available (fans will be provided).
All meals will be communal events. Meals during the first week in San Jose will comprise simple hotel restaurant and cafeteria fare. During the work week in the field, project personnel will be provided with cooked meals for both breakfast and dinner prepared by hired staff. Packed lunches (stored in coolers) will be prepared and transported daily into the field. Students will be required to arrange for their own meals on free weekends. It is unlikely that we will be able to handle very specific dietary needs; loosely vegetarian diets can probably be accommodated (though options may be limited), but vegan and/or gluten-free diets will be difficult to accommodate. For these reasons, students are required to indicate any potential dietary restrictions and/or food allergies during their application interviews with PIs.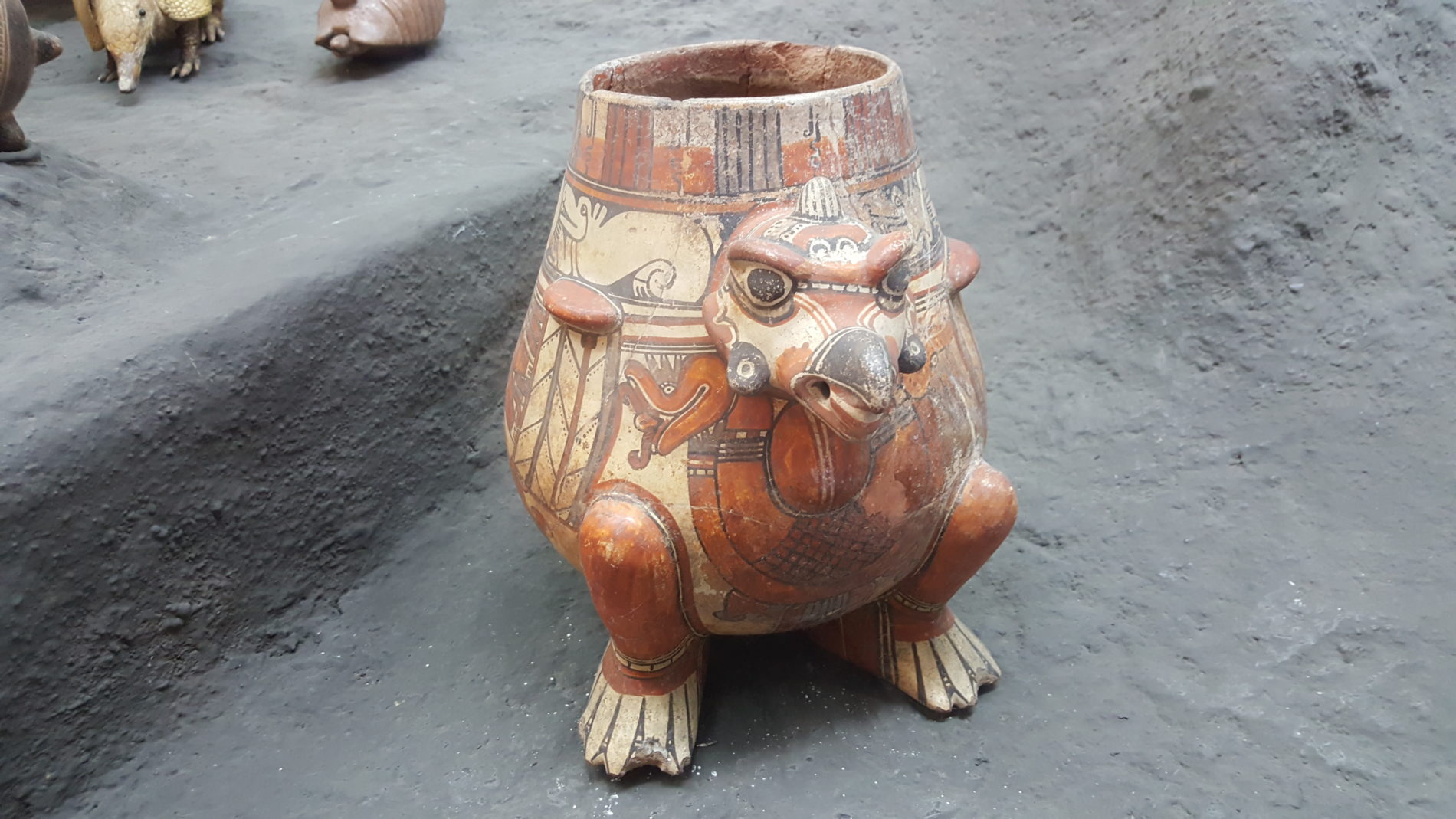 Travel Info
Please hold purchasing your airline ticket until six (6) weeks prior to departure date. Natural disasters, political changes, weather conditions and a range of other factors may require the cancellation of a field school. The IFR typically takes a close look at local conditions 6-7 weeks prior to program beginning and makes Go/No Go decisions by then. Such a time frame still allows the purchase of deeply discounted airline tickets while protecting students from potential loss of airline ticket costs if we decide to cancel a program.
Project staff will meet students arriving to Costa Rica at the Juan Santa Maria International Airport (SJO) in San Jose on Sunday, July 7. It is expected that students will arrive and depart Costa Rica via plane. Staff can accommodate varying arrival times (i.e., it is not required that all students arrive at exactly the same time), but students should try to coordinate their flights with project staff to arrive in late afternoon/early evening (i.e., between 3 p.m. and 7 p.m.). A more specific meeting time may be arranged closer to the start of the field school.
If you missed your connection or your flight is delayed, please call, text or email the project director immediately. A local emergency cell phone number will be provided to all enrolled students.
VISA REQUIREMENTS
US and Canadian citizens may enter Costa Rica for up to 90 days for tourist or business purposes without a visa but must possess a return ticket to their home country. Your passport should be valid for the period of your stay, and we recommend that you make sure it is valid for at least one additional month (for Canadians, note that the Government of Canada specifically recommends that your passport be valid for at least 1 month beyond the date of your expected departure). Citizens of other countries are asked to check the embassy website page at their home country for specific visa requirements.
Student Safety
The IFR primary concern is with education. Traveling and conducting field research involve risk. Students interested in participating in IFR programs must weigh whether the potential risk is worth the value of education provided. While risk is inherent in everything we do, we do not take risk lightly. The IFR engages in intensive review of each field school location prior to approval. Once a program is accepted, the IFR reviews each program annually to make sure it complies with all our standards and policies, including student safety.
Students attending IFR international programs are covered by a comprehensive Health Insurance policy that includes physical illness or injury, mental or chronic conditions. No deductible and 100% of costs are covered up to $250,000. In addition, we provide Political and Natural Disaster Evacuation policy, which allow us to remove students from field school location if local conditions change. Our field school directors are scholars that know their field school locations and cultures well and are connected to the local communities and state institution structures.
Students attending IFR domestic programs (within the US) must have their own health insurance and must present proof of insurance upon enrollment. IFR field school directors are familiar with local authorities and if in need of evacuation, local emergency services and/or law enforcement will be notified and activated.
The IFR has strong, explicit and robust policy towards discrimination and harassment in the field. If students feel they cannot discuss personal safety issues with field school staff, the IFR operates an emergency hotline where students may contact IFR personnel directly.
Call us at 877-839-4374 or email us at info@ifrglobal.org if you have questions about the safety of any particular program.