Overview
Since the passing of the Revenue Act of 1862, the vast majority of local whiskey production has been unregulated and illegal. When the 18th Amendment –known as the Prohibition – passed on October 28, 1919, it became illicit. As production and distribution of illegal liquor moved underground, it took place in tight-knit communities where knowledge is usually secretly kept and passed down within families only. But the continued whisky production must have had significant economic impact.  To better understand this intimate economy, the Moonshine Archaeology Project is attempting to quantify whiskey production by studying material remains of distilleries operated at the Cataloochee area of Haywood County, in North Carolina before, during, and after the Prohibition Period. Students will engage in both survey and excavation of distillery sites identified by the project.
Course Details
Course Dates: Jun 18-Jul 22, 2017

Enrollment Status: CLOSED

Total Cost: $4,580

Course Type: Field Archaeology

Payment Deadline: April 21, 2017

Instructors: Dr. Kirk D. French
Instructors
The directors welcome emails and inquiries about the research elements of this project. More general information (tuition, health insurance, and payment schedule) can be found under the 'Students' tab above. Any further questions may be addressed to IFR staff. Additional details about research, course schedule, travel, accommodation, and safety can be found on the syllabus. Contacting the directors or the IFR office is encouraged and appreciated. It may help you determine if this field school is a good fit for you.
Testimonials
This is a new IFR field school.  No student testimonials are available.
Tuition Includes:
Costs of instruction
Cost of Academic Credits
Room & board
All local transportation
Student Fees
A nonrefundable deposit of $500 is required to secure a seat in this program.  This program requires an application (no application fee is requested). Only accepted students should pay the deposit fee. Deposit fee is part of the program Tuition. The remaining tuition, minus the $500 deposit, must be paid prior to the tuition deadline (see above under "Course Details").
Important Note: If you were accepted to this program but did not cancel your participation by the tuition payment deadline, you are legally responsible for the full tuition regardless of attendance in this program. Please read the IFR Cancellation Policy for further clarification.
A 2.5% Processing Fee is automatically assessed for all credit/debit card payments
A $100 Late Fee will be assessed if full tuition payment is not completed by the deadline.
Look at the field school syllabus above for room & board details.
Accommodations
The students will be staying in their own tents. The camping area is a well maintained space in the yard surrounding the central cabin and lab. There will be two toilets (the current outhouse and an additional portable toilet). One spring-fed outdoor shower will be constructed roughly 50 meters from the main cabin. Hot water is unavailable. The spring water is sufficient for bathing, but not consumption, so additional drinking water will be provided.
The students will alternate with camp duties, such as taking out trash and keeping the area tidy.
A camp cook/manager will be hired to purchase and prepare food for the students and staff. Breakfast will consist of items such as scrambled eggs, tortillas, toast, cold cereal, and fruit. Sandwich lunches for the field will be made by the students that morning. Dinners will be the big meal of the day and prepared by the camp cook. Special dietary needs will be accommodated. Breakfast and dinner will be served on a long table beneath a rustic carport that is attached to the central cabin.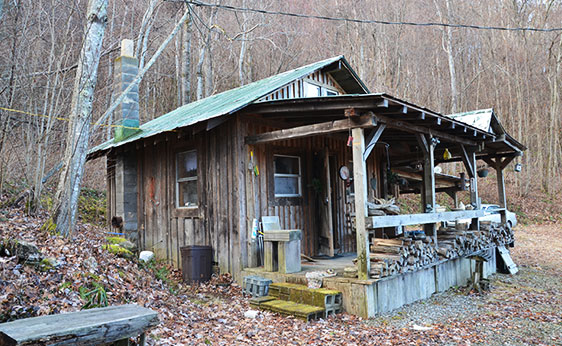 Travel Info
The project house is located in Maggie Valley, North Carolina – about 40 miles west of Asheville. Students arriving by air will be met at the Ashville Regional Airport (AVL) by a project staff member on June 18 at 5:00pm at the baggage claim area. If you missed your connection or your flight is delayed, please call, text or email project director immediately. The director's cell phone number will be provided to all enrolled students.
Students traveling by bus or car will need to make special arrangements with the project director.
The course begins on Monday, June 18 and will meet every weekday until Friday, July 21. Students need to arrive on Sunday, June 18. The official end date of this field school is Saturday, July 22 when students can travel back home. Introductory lectures, site tours, and wilderness training during the initial three days of the project will provide the cultural, archaeological, and safety background necessary to succeed in the field. A series of lectures, weekend fieldtrips, and required readings will allow detailed learning concerning the region.
Student Safety
Student safety is paramount for the IFR. Unlike many universities who are self-insured, the IFR purchases a range of high end insurance policies from some of the largest insurers in the world. Students in all our international programs have a comprehensive health insurance policy. It covers sickness, and chronic and mental health conditions at 100% of the cost. We have a strong evacuation and extraction policy. We can remove students from any location anywhere in the world with one phone call – whether medical evacuation, political or natural disaster extraction and anything in between. We purchase intelligence services from a global private provider and monitor the world 24/7. We automatically enroll our students to the US State Department STEP program. All of our students receive safety orientations both before and on the first day of each program. Our faculty have all been working in the areas where we operate field schools for years. They are intimately familiar with local customs and traditions, know the landscape well and have deep relationships with local communities.
All our domestic programs are coordinated with local authorities which are informed of our operations. Students in domestic programs are covered by their own health insurance and evacuations are managed by local emergency services, as appropriate.
The IFR has strong, explicit and robust policy towards discrimination and harassment in the field (click here for a shortcut). If students feel they cannot discuss personal safety issues with the field school staff, the IFR operates an emergency hotline where students can contact IFR personnel directly.
Travel does involve risk, but we try to minimize this risk as much as possible. Call us at 877-839-4374 or email us at info@ifrglobal.org if you have questions about the safety of particular programs.