Overview
The Amache Archaeology and Heritage Management Field School is part of a long-term community collaborative project at Amache, a World War II-era Japanese American confinement camp in southeastern Colorado. This project provides a rare opportunity for students to work with survivors in synergistic investigations of the past and its meaning in the present at a National Historic Landmark. Working on-site and in the Amache museum, participants in the field school, gain hands-on experience in intensive site survey, historic artifact analysis, ground penetrating radar, landscape archaeology, collections management, public interpretation and outreach, and community-based research.
Course Details
Course Dates: June 10-July 14, 2018

Enrollment Status: OPEN

Total Cost: $3,970

Course Type: Field Archaeology

Payment Deadline: April 20, 2018

Instructors: Dr. Bonnie Clark

Online Orientation:  April 21, 2018, 4:00 PM PST
Instructors
The directors welcome emails and inquiries about the research elements of this project. More general information (tuition, health insurance, and payment schedule) can be found under the 'Students' tab above. Any further questions may be addressed to IFR staff. Additional details about research, course schedule, travel, accommodation, and safety can be found on the syllabus. Contacting the directors or the IFR office is encouraged and appreciated. It may help you determine if this field school is a good fit for you.
Testimonials
This is a new IFR field school. There are no student testimonials available at this time.
Tuition Includes:
Costs of instruction
Cost of Academic Credits
Room & board
All local transportation
Student Fees
A nonrefundable deposit of $500 is required to secure a seat in this program.  This program requires an application (no application fee is requested). Only accepted students should pay the deposit fee. Deposit fee is part of the program Tuition. The remaining tuition, minus the $500 deposit, must be paid prior to the tuition deadline (see above under "Course Details").
Important Note: If you were accepted to this program but did not cancel your participation by the tuition payment deadline, you are legally responsible for the full tuition regardless of attendance in this program. Please read the IFR Cancellation Policy for further clarification.
A 2.5% Processing Fee is automatically assessed for all credit/debit card payments
A $100 Late Fee will be assessed if full tuition payment is not completed by the deadline.
Look at the field school syllabus above for room & board details.
Accommodations
Amache is located near the town of Granada, a small farming community of around 500 residents where members of the field school are well known and welcomed. Students will be housed in the Amache Research Center (ARC), a facility located in and owned by the Town of Granada. A former school facility, the building has air conditioning, separate rooms for male and female students, multiple bathrooms, a locking shower room, a large kitchen, and several public use rooms.
MEALS: All meals will be communal and food for lunch and breakfast is provided in a serve yourself system. Evening meals will be prepared by a cook who can accommodate specific food needs or allergies. Students will have opportunities to purchase their own snacks and additional necessities either in the local gas station or on trips to stores in nearby towns. Students will rotate through shared responsibilities for the maintenance of the ARC including setting up for meals, dish duty, and cleaning shared spaces.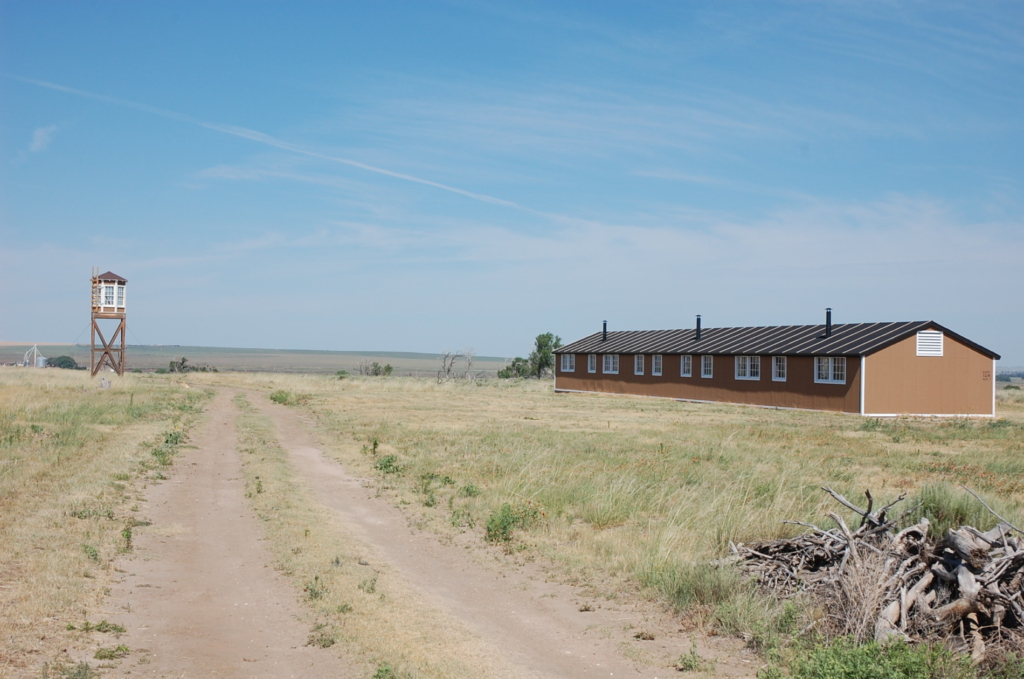 Travel Info
Students are required to arrange their own travel to the Denver metro area, arriving during the morning or early afternoon of June 10, 2018. Orientation will take place that evening at 5 pm in Sturm Hall on the University of Denver campus. Students with a car in Denver are permitted to drive to the field site in Granada, Colorado as part of the field school caravan on June 11, but must be present for orientation on the 10th.
Project staff will assist you in your travel plans. If you missed your connection or your flight is delayed, please call, text or email project director immediately. A local emergency cell phone number will be provided to all enrolled students.
VISA REQUIREMENTS
No Visas should be required unless you are a not an American citizen and require one to enter the country to attend the field school. In those cases, please check with the U.S. Consulate in your home country.
Student Safety
Student safety is paramount for the IFR. Unlike many universities who are self-insured, the IFR purchases a range of high end insurance policies from some of the largest insurers in the world. Students in all our international programs have a comprehensive health insurance policy. It covers sickness, and chronic and mental health conditions at 100% of the cost. We have a strong evacuation and extraction policy. We can remove students from any location anywhere in the world with one phone call – whether medical evacuation, political or natural disaster extraction and anything in between. We purchase intelligence services from a global private provider and monitor the world 24/7. We automatically enroll our students to the US State Department STEP program. All of our students receive safety orientations both before and on the first day of each program. Our faculty have all been working in the areas where we operate field schools for years. They are intimately familiar with local customs and traditions, know the landscape well and have deep relationships with local communities.
All our domestic programs are coordinated with local authorities which are informed of our operations. Students in domestic programs are covered by their own health insurance and evacuations are managed by local emergency services, as appropriate.
The IFR has strong, explicit and robust policy towards discrimination and harassment in the field (click here for a shortcut). If students feel they cannot discuss personal safety issues with the field school staff, the IFR operates an emergency hotline where students can contact IFR personnel directly.
Travel does involve risk, but we try to minimize this risk as much as possible. Call us at 877-839-4374 or email us at info@ifrglobal.org if you have questions about the safety of particular programs.